(Tuesday, 13th November 2018)
High-net-worth individuals often have complex risk profiles and exposures, leading to more elaborate insurance requirements. Whether searching for adequate insurance cover for their assets, legal expenses or life and healthcare insurance, HNWIs and their family offices should always seek the advice of a partner with experience in handling such requirements, to relieve the pressures and demands for technical knowledge that insurance planning carries.
Common insurance packages for HNWIs include cover for international real estate, yachts, aircraft, automobiles, travel, health and life insurance.
Property insurance
When owning a portfolio of properties, one may not necessarily consider the insurance requirements as quickly as one would look at other issues such as tax implications.
However, with the right advice, property owners will be guided to protect themselves against risks which are specific to the region or territory in which their properties are located, including weather and natural risks as well as other issues such as liability towards employees on the premises and high-value artworks, collections and other precious items.
When insuring several properties, one should consider taking out a single policy covering private collections including fine art, wines, antiques, rare books, precious stones and metals, and other memorabilia. This makes administration easier, especially since a centralised inventory is usually kept by the individual or their family office.
Did you know that homes and valuable collections are the most underinsured risks in personal lines of insurance? The main reason for this is that many individuals do not carry out regular evaluations of their property and valuables. It is recommended to have a valuation carried out at least every couple of years, and the updated values should be reflected on the insurance policy to ensure that the property is adequately covered.
Yacht and aircraft insurance
Two types of insurance cover that require highly specialised underwriting are yacht and aircraft insurance. As a basis under both types of insurance cover, it usually makes the most sense to take out a package for hull, liability, workers' compensation and personal accident cover for aircraft pilots, yacht captains, and their respective crews.
Aviation insurance for aircraft as well as the related liability risk should be tailored to suit not only the aircraft type itself, but also its intended use and area of operation. Is the aircraft used for corporate travel, personal travel or chartered out to third parties? Does the aircraft operate into designated 'high-risk' territories? Crew insurance requirements for visa approval in destination countries and other issues can also be pre-empted by an experienced insurance provider.
Yacht insurance offered for more luxurious vessels is typically based on 'all risks' coverage, which means that the vessel is covered against damage or loss regardless of the cause, save for any standard specific exclusions. A yacht insurance policy should also automatically offer cover on dry land – for example, if a loss occurs while the vessel is dry-docked. Similar to aviation risks, if the yacht is being offered for charter, one must ensure that its insurers have been advised and that the policy is amended accordingly. The crew must also be adequately insured in line with international maritime requirements, depending on the area of operation.
Travel, health and life insurance
Travel insurance aimed at high-net-worth individuals would offer much higher benefit limits than a standard policy. However, monetary limits aside, the most valuable element of a travel insurance policy is the emergency assistance services offered under the policy. It is the response offered by this service that should assist in turning an emergency into a manageable event. A high-end travel insurance policy should offer, amongst other benefits, 24/7 assistance and management of medical emergencies through a vast worldwide network of medical providers and hospitals; security assistance including evacuation in the event of natural disasters, terrorism, civil unrest and even disease outbreaks; security advice before and during a trip if travelling to unstable locations; and assistance with stolen or lost luggage, passports and cash.
Although a travel insurance policy will cover medical expenses incurred as an emergency whilst travelling, it will not cover planned treatment for any medical conditions. This is where private health (or medical) insurance comes in. A great private health insurance policy will offer access to the world's best medical centres and will cover most medical conditions. However, health insurance will generally not cover pre-existing medical conditions, so it is best to start this policy when one is still young and healthy. Children insured under a family plan will be able to take out their own individual cover upon reaching adulthood without medical underwriting, so no pre-existing medical conditions will be excluded (subject to other general exclusions) since this scenario is treated as a continuation of cover.
Life insurance has become a very important component of wealth planning strategies for HNWIs. Life insurance is used to manage issues such as the formation of a trust for wealth transfer to the next generation, estate planning, tax planning and even philanthropic donations. When planned correctly, life insurance allows families to finance costs associated with death, without having to liquidate any assets.
Family Office insurance cover
Individuals who employ the services of a Family Office may commonly also require indemnity insurance, legal expenses cover, employers' liability cover (also known as workers' compensation cover) and directors and officers liability cover. More complex set-ups may even require even broader insurance products. Each organisation may have vastly different insurance requirements and thus ongoing consultation with seasoned experts is thoroughly recommended.
Other types of insurance cover
The international insurance market has recently seen developments aimed at high-net-worth individuals, with new products emerging to suit the present and future HWNI. Some of these products include kidnap, ransom and extortion insurance; and equine insurance for racehorses and show horses. Other products are also being further developed, such as personal and home security services offered in property insurance packages; and emergency response training services offered to crew on yachts and aircraft.
As the demand for such specialised products continues to grow, there is no doubt that existing insurance products will continue to develop and evolve, and insurers will continue to design new products to satisfy the ever-growing needs of high-net-worth individuals.
Laferla Insurance Agency Ltd. is enrolled in Malta under the Insurance Intermediaries Act, 2006, to act as an Insurance Agent for MAPFRE Middlesea plc (MMS). MMS is authorised by the Malta Financial Services Authority (MFSA) to carry on both Long Term and General Business under the Insurance Business Act, 1998. Laferla Holdings Ltd. is an enrolled Tied Insurance Intermediary in Malta under the Insurance Intermediaries Act, 2006 for MAPFRE MSV Life plc (MMSV). MMSV is authorised by the Malta Financial Services Authority (MFSA) to carry on long-term business under the Insurance Business Act 1998. Independent consultancy offered by Laferla Services Ltd. All entities are regulated by the MFSA.
THE AUTHORS
Maltese brothers Mark Jr and Keith Laferla are second-generation owners of the Laferla Insurance Group in Malta, a family business which was founded in 1984. Keith and Mark both hold the ACII qualification by the Chartered Insurance Institute (UK) and have both been awarded the status of Chartered Insurer by the same Institute. They are also both recognised members of the Investment Migration Council (Geneva).
Today, Laferla is the leading insurance provider for applicants of the Maltese Citizenship and Residence by Investment programmes – the MIIP and MRVP programmes, providing services to over 1,000 high-net-worth and ultra-high-net-worth individuals and families. With their experience in dealing with such clients, the group also offers independent consultancy for HWNIs and UHNWIs and their family offices internationally.
Contracting the services of an independent consultant will guarantee that you are receiving guidance and advice in your best interest.
Contact Mark on mlj@laferla.com.mt and Keith on klaferla@laferla.com.mt for further information.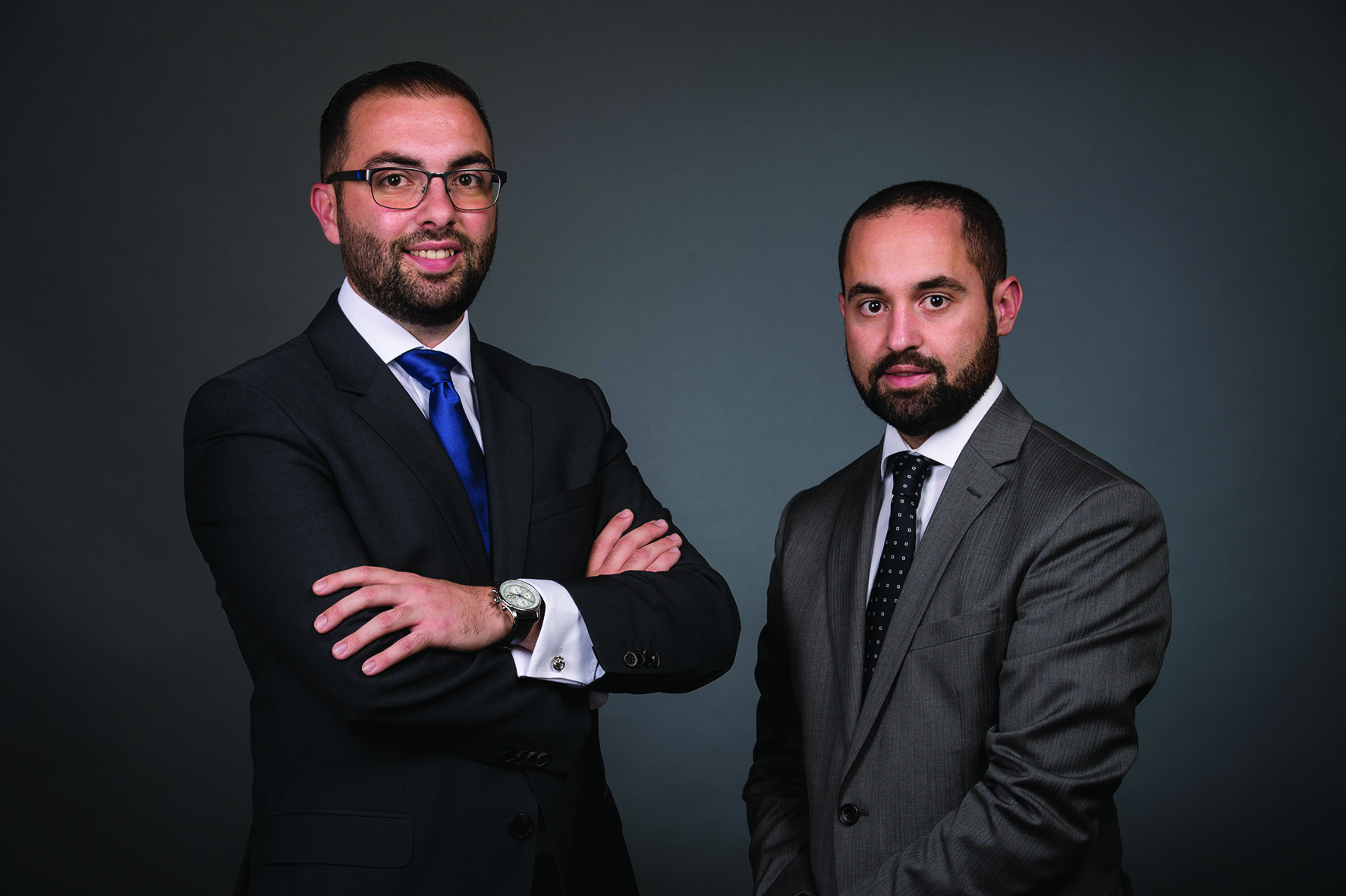 The Laferla brothers – Keith (left) and Mark Jr (right)