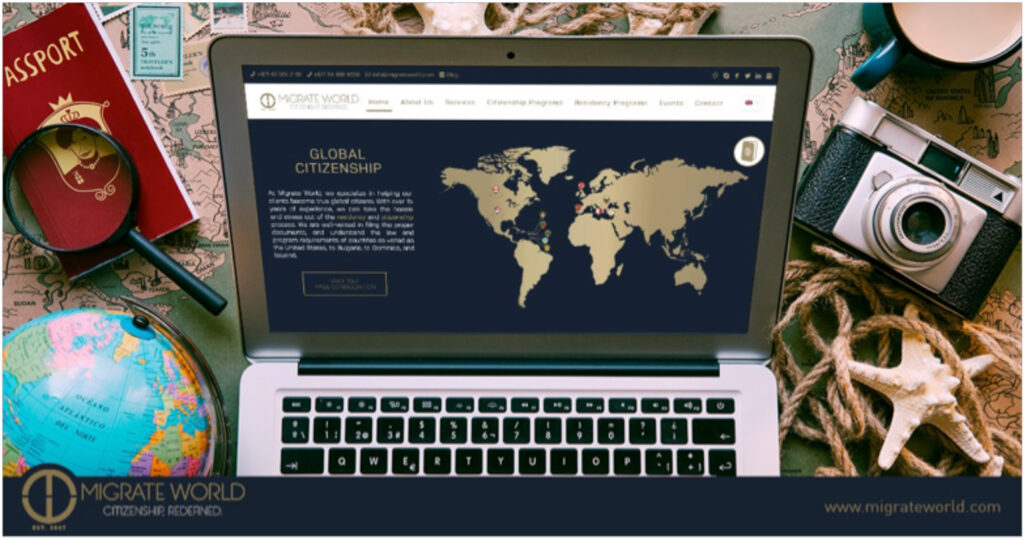 The way our world is unfolding today brings with it several and different nationality restrictions, which impede many people's plans over the issues of security, decent education, reputable work and simply ease of travel. It also takes away the tax benefits that they can acquire had they been able to acquire a second citizenship.
At Migrate World, we specialise in assisting our clients become true citizens of the world. Our services include assisting investors to gain a secondary citizenship and passport in a number of countries around the world legally, proficiently, and professionally. What is important to always consider though, is which citizenship you pursue, as with the rising numbers of promoters in this business, it can be easy to be misled onto the wrong path. Having said that, look for constitutional programmes only, which are programmes whose countries have within their constitutions the respective citizenship and residency by investment programs. It is also crucial to make sure that you are dealing with an authorised representative and agent for the programmes you are seeking.
With over 15 years of experience in navigating the complex process of obtaining a second citizenship, we do more than just fill out the paperwork. We offer a wide range of services, from citizenship by investment to company formation, real estate purchasing, investment options, financial services, legal services, and more to ensure our clients are well established wherever they find themselves.
Recognising that every client's situation is unique is entirely integral to developing a custom-tailored approach that meets the needs of each individual we work with. When it comes to building a new life, there is no standard approach.
Our complete list of programmes includes countries in the Caribbean and in the European Union, as well as Canada, the USA, and the UK. The investment options for those programmes range between making a government donation or contribution, investing in real estate, or investing a government approved project or business.
The programmes in the Caribbean are popular for their quick and simple nature and the fact that they allow visa-free entrance to more than 120 countries including the EU, Schengen countries and the UK. It takes three to six months to issue their citizenship and passport through either contributing to a government or making a real estate investment with amounts ranging between $100,000 USD and $150,000 USD ­ for single applicants ­ and $200,000 USD, respectively.
St. Kitts & Nevis: Established in 1984 as the pioneer of the citizenship by investment programmes, the St. Kitts and Nevis CBI programme is one of the most well-respected and most emulated in the world. The programme allows investors to make a contribution to the country in return for citizenship and a passport. St. Kitts and Nevis has recently started a new fund that gives investors the option to acquire the citizenship and passport through contributing a sum that starts at $150,000 USD to the Sustainable Growth Fund. Under the new fund, the SGF, investors have the option to invest in real estate worth $200,000 only – which they can sell after seven years as opposed to five years with the other real estate investment option starting at $400,000 USD – in exchange for citizenship and passport of this mesmerising island.
Antigua & Barbuda: The option to contribute to the National Development Fund in return for citizenship and passport is currently at an offer of $100,000 USD for a family of four and $125,000 USD for a family of five, excluding processing fees. In addition to that, Antigua and Barbuda provides the option to invest in real estate, which can be sold after five years, starting at $400,000 USD.
Dominica: In addition to the Economic Citizenship programme it offers, the Commonwealth of Dominica provides the option to invest in real estate starting at $200,000 USD. Dominica has been rebuilding at record speeds following the hurricane season last September, keeping its name the "Nature Isle of the Caribbean".
St. Lucia: In addition to its National Economic Fund, St. Lucia provides the option to invest in real estate worth $300,000 USD. With regard to government contributions, St. Lucia, in addition to Dominica, are considered the most economical programmes for a single applicant, in which contribution to their development funds start at $100,000 USD.
Grenada: The Spice Island's citizenship by investment programme seeks to attract foreign individuals. Citizenship and a passport can be obtained in as little as four months in exchange for an investment in either the National Transformation Fund (NTF), another government-approved project, or in real estate.
Included below are reasons as to why investing in the said countries is encouraged.
European Union
Portugal: Known as the Golden Residence Permit (GRP), there are three options for residency by investment including investing in real estate with a minimum property value of €350,000-€500,000. Portugal's economy has been steadily increasing ever since the global financial crisis hit and in 2017, overall growth surged to a nearly two-decade high point. Therefore, considering an investment in Portugal for a second passport will not at all be a bad idea, especially since Portugal provides the fastest route – 45 days – to a residency in the EU, competing with Malta which takes around 60 days to issue the residency card.
Bulgaria: Bulgaria is a strategic crossroad between Europe, Russia, and the Middle East. Moreover, the Bulgarian economy has experienced rapid growth and today and according to projections, the economy is only going to continue to grow. For that, Bulgaria's programme is an attractive one, which allows investors to receive permanent residency leading to citizenship with no in-country residency requirements by investing in €240,000 worth of government bonds and receive Bulgarian citizenship and passport within two years.
Cyprus: Cyprus has long been a geographical bridge between east and west thanks to its strategic location in the Mediterranean Sea. Cyprus provides the option for a permanent residency by investing in real estate worth around €300,000 and citizenship if you invest €2m in real estate, or €500,000 in government bonds combined with €2m in real estate. Options to invest in Cyprus are attractive because it generally takes three months to get the residency and three to six months to acquire European citizenship and a passport. Cyprus enjoys a business-friendly tax system, with a corporate tax rate of just 12.5% – one of the lowest in the European Union.
Malta: Malta enjoys a strategic location in the middle of the Mediterranean, and with excellent transportation links travelling to and from Malta is incredibly easy and efficient. Malta also enjoys one of the lowest unemployment rates in all of the EU, which makes it attractive to invest in. We provide the Maltese Individual Investor Programme (IIP), which offers the option to invest in real estate as well as contribute to the economic development of Malta. Processing takes one year, which is another attractive feature of the Malta IIP, in addition to its record four weeks only in issuing applicants their residency cards.
United Kingdom: The UK offers two visa-investment options – the Tier 1 Investor Visa and the Tier 1 Entrepreneur Visa – both of which allow investors to quickly gain legal residency in the country within six to nine months. The UK is an incredibly powerful economy – it is the fifth largest national economy in the world by GDP – with London being an international hub for business.
North America
Canada: The Canada Entrepreneur Program seeks to attract experienced entrepreneurs who are ready to invest in the province of Prince Edward Island, starting at $150,000 CAD and creating jobs for Canadian citizens and permanent residents. There are both 100% ownership and partial ownership streams for interested entrepreneurs. A second investor programme option is also available through the province of Quebec. Both of these provinces provide programmes with high approval rates, which is what clients seek.
United States: The US Citizenship and Immigration Services (USCIS) runs the Immigrant Investor Program, popularly known as EB-5. EB-5 participants must invest a refundable $500,000 USD in a new commercial enterprise which is a for-profit activity formed for the ongoing conduct of lawful business. Get in touch with us for details on the project we are promoting in Florida, which is a reputable one with guaranteed completion and success.
Migrate World offers partnerships, knowledge, expertise, and established relationships that many of our competitors simply cannot offer and we do so with honesty as participants of the United Nations Global Compact.
Headquartered in Dubai and with offices across the world – from Canada to Jordan, Egypt, the Philippines and beyond – we are never more than a phone call or email away. Our clients also come from a variety of backgrounds including the Middle East, South Asia, and Africa.
Simply put, not all passports are created equally. Having a second passport means more opportunities in general. On the surface, it may seem that we are in the business of facilitating second citizenships, but we like to think that we are actually in the business of building relationships with each and every one of our clients.
As true partners in helping you become a global citizen, we are just around the corner at any moment, call us at +971 4 355 5288, email us at info@migrateworld.com, or visit us online for a consultation.