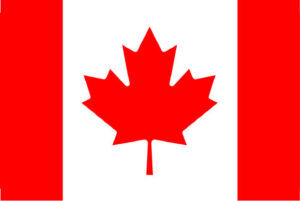 QUICK FACTS
Capital city: Ottawa
Population: 37,797,496 (2019)
GDP in current prices: USD $1,900 trillion (2019)
GDP real growth: 2% (2019)
Area: 9,984,670 km² (land 9,093,507 km²)
Government: Federal parliamentary constitutional monarchy
Monarch: Queen Elizabeth II
Governor-General: Julie Payette
Prime Minister: Justin Trudeau
Currency: Canadian dollar (CAD)
HDI: 13th (2018)
Ease of doing business index: 23rd (2019)
Time zones: Ontario and Quebec – GMT -4 / Alberta GMT -6 / British Columbia GMT -7
Dialling code: 1 
Canada is a country in the continent of North America, stretching from the Pacific Ocean in the west to the Atlantic Ocean to the east and sharing a land border with the United States to the south and the US state of Alaska to the northwest. Its northern territories extend well into the Arctic Ocean with the Danish territory of Greenland situated off to the northeast. 
By total area, it is the second-largest country in the world after Russia, although this includes nearly two million lakes, with nearly 9% of Canada's surface area covered by freshwater. With a population of over 37 million people, Canada is the 38th most populous nation and has a strong multi-cultural heritage.
Canada is a highly advanced country with the 10th largest economy in the world and a very high Human Development Index (HDI). Importantly for anyone thinking of migrating, Canada is one of the most ethnically diverse and multicultural countries in the world with extremely high degrees of civil liberties and quality of life. A founder member of the Commonwealth of Nations and the United Nations, it is also a member of the G7. Canada is also one of the wealthiest countries globally, ranking 8th in the 2018 Credit Suisse listings with USD $8,319 billion. 
Canada's provinces and territories
Each of Canada's ten provinces has its own legislative assembly with one parliamentary house and shares government responsibilities with the federal government. The three territories also have their own legislative councils but with no sovereignty and fewer responsibilities. 
Canada's official languages are English and French and these have equal status in parliament, the courts and in all federal institutions. French is the official language in Quebec and New Brunswick is officially bilingual under the Canadian Charter of Rights and Freedoms. The rest of the provinces use mainly English as their primary language, while the territories give official status to several indigenous languages, with Inuktitut the majority language in Nunavit as one of its three official languages. According to the 2016 Census, 56% of the Canadian population spoke English as their mother tongue and 21% spoke French as their mother tongue, with around 98% able to speak one or both languages.
Citizenship by Investment
Canada was one of the first countries to operate immigration investment programmes, launching its Federal Immigrant Investor Program (FIIP) in 1986. However, this was closed permanently and suddenly in 2014. Since then, the Quebec Immigrant Investor Program (QIIP) has been a very popular scheme for business owners and company directors. However, the intake of permanent selection applications under the Investor Program has been suspended from 1 November 2019 to 31 March 2021 while the program is reviewed.
Entrepreneur Program
Canada's Start-up Visa Program targets immigrant entrepreneurs with the skills and potential to build businesses locally. This is designed for job creation and to help build global businesses, so projects will be judged on that basis by The Province of Québec, which is in charge of its own business immigration program.
The maximum number of permanent selection applications that will be accepted under the Entrepreneur Program is 60 for the period from 1 November 2019 to 30 September 2020, including a maximum of 25 applications in Stream 1 and 35 applications in Stream 2. Applications exceeding this number will be returned to the candidates.
All Entrepreneur candidates must demonstrate an advanced intermediate knowledge of the French language.
To be eligible for this program, you must meet the following conditions:
Stream 1
• You must settle in Québec to create and operate a business for which you have already received a service offer from a business accelerator or incubator or a university entrepreneurship centre. You can carry out your project alone or with others, up to a maximum of three other foreign nationals who have submitted applications for permanent selection as entrepreneurs for the same project.
• You must present your business project in the form of a business plan, as well as a service offer.
• As of January 2020, you must also obtain an attestation of learning about democratic Québec values. The members of your family accompanying you (spouse and dependent children of 18 years of age or older) must also go through the same process.
• Under the Entrepreneur Program, Stream 1, there is no specific list of organisations authorised to support applicants, however the Ministère de l'Économie et de l'Innovation does hold a list of organisatons it approves, such as:
"Business accelerators" – organisations based in Québec that offer support services, particularly in regards to finding financing, to people whose business projects are aimed at the growth of innovative companies;
"University entrepreneurship centres" – organisations managed by or affiliated with an academic institution that provide mentoring services;
"Business incubators" – organisations with an establishment in Québec that offer mentoring services, including hosting, to, people whose business projects are aimed at the creation of innovative businesses.
• These organisations must demonstrate the ability to support the applicant and project, and present as support plan, an operation plan, and evidence of expertise as a business accelerator, business incubator or university entrepreneurship centre (particularly in relation to the entrepreneur's project).
• Even if you have already launched your business project in Québec, you may still be eligible for the Entrepreneur Program, as long as the project is not yet fully implemented. However, you will still have to observe all of the Program's rules, including presenting a business plan and meeting the financial requirements.
Stream 2
• You must follow some of the same stipulations as Stream 1, including settling in Québec, having an approved business plan, and learning about local democratic values.
• You must make a startup and security deposit at a financial institution with an establishment in Québec.
• You must use the startup deposit to set up your business. The required amount is lower (CAD $200,000) if you set up your business outside the Montréal metropolitan area (CMM). A startup deposit of CAD $300,000 is required
if the business is located in the CMM. The security deposit will be refunded when you demonstrate that your business plan has been carried out.
• You must also have a minimum net worth of CAD $900,000, alone or with your spouse, and demonstrate that this money has been legally acquired.
• If you create a business, you must own and control at least 25% of its equity capital. If you choose to acquire a business, you must own and control at least 51% of its equity capital.
• The business must not be involved in certain listed activities, including real estate development or real estate or insurance brokerage, and must have been in operation for five years.
• Applications are assessed on factors like: the candidate's age; education; French and English language skills; financial self-sufficiency; and ties to Québec.
The fees, unchanged from 2002, were increased for most economic immigration programs, by Immigration, Refugees and Citizenship Canada on 30 April, with the intension that fees will then be automatically adjusted for inflation. Despite this, Canada's fees are much less expensive than countries with similar migration systems, such as Australia, New Zealand, the UK and the US.