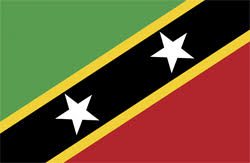 QUICK FACTS
Capital city: Basseterre
Population: 55,345 (2017)
GDP in Current prices: USD $1.02 billion (2018)
GDP growth: 3.0% (2018)
Area: 261 km²
Government: Federal parliamentary constitutional monarchy
Monarch: Queen Elizabeth II
Governor-General: Sir S.W. Tapley Seaton
Prime Minister: Timothy Harris
Currency: East Caribbean dollar (XCD)
HDI: 72nd (2018)
Ease of doing business index: 140th (2018/19)
Time Zone: GMT -4
Dialling code: 1 869
Saint Kitts and Nevis, also known as the Federation of Saint Christopher and Nevis, is an island state in the West Indies and a member of the Commonwealth. Part of the Leeward Islands chain of the Lesser Antilles, it is the smallest sovereign state in the Western Hemisphere, in area and population. The capital city, Basseterre, is on the larger island of Saint Kitts. The smaller island of Nevis lies approximately 3km southeast of Saint Kitts across a shallow channel called "The Narrows". English is the official language but Saint Kitts Creole is also widely spoken.
Saint Kitts was named "Liamuiga", meaning "fertile land", by its original native inhabitants the Kalinago Caribs. The name was preserved when the tallest peak on St. Kitts was renamed Mount Liamuiga on the day of gaining independence in 1983.
Christopher Columbus sighted what is now Nevis in 1493 and gave that island the name San Martín. The current name "Nevis" is derived from a Spanish name Nuestra Señora de las Nieves, meaning Our Lady of the Snows, perhaps in reference to the white clouds which usually wreathe the top of Nevis Peak.
Geography
The islands are of volcanic origin, with large scenic central peaks covered in tropical rainforest. There are numerous rivers descending from the mountains to empty, white-sand beaches. Beds of offshore coral, teem with fish of every stripe and colour. Although they are only 3km apart, St. Kitts is classified as having a tropical savanna climate whereas Nevis has a tropical monsoon climate.
With the beautiful nature there is a lengthy and rich cultural history. Brimstone Hill Fortress National Park, dating from 1690, is a UNESCO world heritage site that has been dubbed the "Gibraltar of the West Indies". Tourists can see where tobacco, indigo and then sugar were grown on the historic plantations, take sweaty rainforest hikes, or relax on the sandy, palm fringed beaches. The sugar industry survived until 2005, and a unique legacy of this is the St. Kitts Scenic Railway where passengers can ride for 29km along a narrow gauge line built to transport cane.
Today the island lives by tourism, a transformation that appears to have been achieved with record speed. St. Kitts now welcomes a steady stream of cruise ships and has a 394-room Marriott resort and casino. Major luxury property developments are taking shape and a private jet terminal and superyacht marina recently opened. It is also known for a number of celebrations including Carnival (December-January) and the St. Kitts Music Festival (June).
Economy
At the turn of the 18th century, St. Kitts was the richest British colony per capita in the Caribbean, a result of the sugar trade. The economy had traditionally almost exclusively depended on the growing and processing of sugar cane until the late 1970s, when the government backed a drive into small-scale, export-oriented industrialisation and off-shore banking sectors. On 19 September 1983, the country achieved independence from the UK.
The economy of St. Kitts and Nevis experienced strong growth for most of the 1990s but a number of hurricanes contributed to a sharp slowdown, particularly in the agricultural, tourism and construction sectors. Latest estimates for 2017 show that Agriculture contributes just 1.1% of the economy, with Industry being 30.0% and Services accounting for 68.9%.
Since 2010, tourism has been steadily rising again to become the largest source of foreign exchange. In 2016, Travel & Tourism directly contributed 5.9% to GDP and in total, including employment, accounted for 25.1% of GDP, a figure forecast to reach 33% by 2027.
According to the IMF, St. Kitts and Nevis attained the strongest growth and fiscal performance in the ECCU region in recent years, with public debt set to meet the ECCU's 60% of GDP target in 2018. The strong performance owes much to Citizenship-by-Investment (CBI) inflows as well as overall prudent macroeconomic policies. GDP in St. Kitts and Nevis is projected to reach around $1.05bn in 2020.
St. Kitts and Nevis is a member of the Eastern Caribbean Currency Union (ECCU). The Eastern Caribbean Central Bank (ECCB) issues a common currency (the East Caribbean dollar) for all its members, and regulates and manages monetary policy and banking. The US dollar is widely used as well. The United States is the main export and import partner for the country, accounting for 56% of the total exports and 31.7% of imports.
Citizenship by investment 
The Saint Kitts and Nevis passport is issued to citizens for international travel. The passport is a Caricom passport as Saint Kitts and Nevis is a member of the Caribbean Community. Interested parties can acquire citizenship if they pass the government's background checks and make an investment into an approved real estate development. The St. Christopher (Kitts) and Nevis passport issued is valid for 10 years, which can be renewed thereafter. It takes about three to four months processing time.
The Government has introduced extensive legislation to attract financial services businesses to the island. The Citizenship by Investment Programme has also been in operation since 1984, allowing foreign investors to acquire citizenship under certain conditions. This makes it the oldest existing citizenship programme in the world, as well as the most reputable citizenship programme in existence.
St. Kitts and Nevis citizenship is highly regarded. As a result, St. Kitts and Nevis citizens enjoy a passport with an excellent reputation and very good visa-free travel, including to all of the EU's Schengen Area, Hong Kong, Switzerland, and other countries. Accordingly, the St. Kitts and Nevis Citizenship by Investment Programme is an attractive option if one is looking to acquire a second citizenship through investment without prior residence requirements.
When you acquire citizenship under the St. Kitts and Nevis Citizenship Programme, you and your family enjoy full citizenship for life, which can be passed on to future generations by descent. As a citizen of St. Kitts and Nevis, you have the right to take up residence in St. Kitts and Nevis at any time and for any length of time.
You will not be taxed on foreign income, capital gains, gift, wealth, or inheritance tax so this may complement your current wealth protection and tax planning strategies.
Citizens of St. Kitts and Nevis are allowed to hold dual citizenship, and the acquisition of citizenship is not reported to other countries.
The regulations regarding citizenship by investment are contained in Part II, Section 3 (5) of the Citizenship Act, 1984. These provisions allow the government to operate a program under which citizenship is granted to persons who qualify under criteria set by cabinet decision.
Requirements and procedures
Minimum Investment
To qualify for citizenship of St. Kitts and Nevis under its citizenship by investment programme, there are two active options:
Sustainable Growth Fund (SGF)
St. Kitts and Nevis launched a new Sustainable Growth fund, effective from 1 April 2018 after the expiry of Hurricane Relief Fund. The Sustainable Growth Fund for a single applicant requires a one-time non-refundable contribution of US$150,000, inclusive of Government fees. The contribution for a family of up to four will be US $195,000 following incremental steps. The fund will benefit St. Kitts and Nevis in sustainable areas such as healthcare, education, alternative energy, heritage, infrastructure, tourism and culture, climate change and resilience, and the promotion of indigenous entrepreneurship.
The contribution requirements under SGF are:
Main Applicant: US$150,000
Family of Four: US$195,000 (i.e. the main applicant, plus spouse US$25,000 and two children   US$10,000 each)
Additional family dependents: US$25,000
The government also allows for parents and grandparents over the age of 55 to be included in the application as dependents, if they are living with and are fully supported by the main applicant. The contribution of US$10,000 is required for each additional dependent, regardless of age.
Real estate
Designated recoverable real estate investment with a value of at least US$400,000 plus payment of various registration and other fees. Additional fees apply for any accompanying family members. The real estate can be sold after five years – it also qualifies the next buyer for citizenship.
Effective from April 2018, two persons (jointly) can buy real estate, each contributing US$200,000 (plus the government fees) to meet the US$400,000 requirement but the property can only be resold after seven years. The government works with various approved real estate developers. You can buy villas or apartments or luxury condos, provided you satisfy the minimum investment. The real estate route is more expensive and takes longer to complete, but there is a chance to recoverable investment after five years.
You can expect total costs of US$492,000 or more, with the real estate option for single applicant. Additional costs apply for accompanying family members. The SIDF is a much cheaper option for citizenship, compared to real estate investment.
The average processing time is between four and six months, if property is purchased from a developer that meets all criteria for efficient processing of citizenship application.
Fees and costs
Minimum investment: US$150,000 Sustainable Growth Fund (SGF) or US$400,000 (Real estate)
Government fee: US$50,000 per person
Due diligence fee: US$7,500 main applicant
US$4,000 for spouse and for each dependent aged 16 years or over
Passport fee: US$500 per person
Lawyer fee
Accelerated Application Process
Uniquely amongst citizenship by investment jurisdictions, St. Kitts and Nevis offers an Accelerated Application Process (AAP) for a fixed fee. Interested applicants still need to meet all the mandatory criteria for submitting documents, but if successful they would be guaranteed full processing including getting a registration certificate and passport within 60 days of submission.
The AAP fees are inclusive of standard due diligence fees and cost US$25,000 for the main applicant and US$20,000 for dependents aged 16 or over. For any family members under the age of 16 the fee is just US$500 for the passport processing fee.