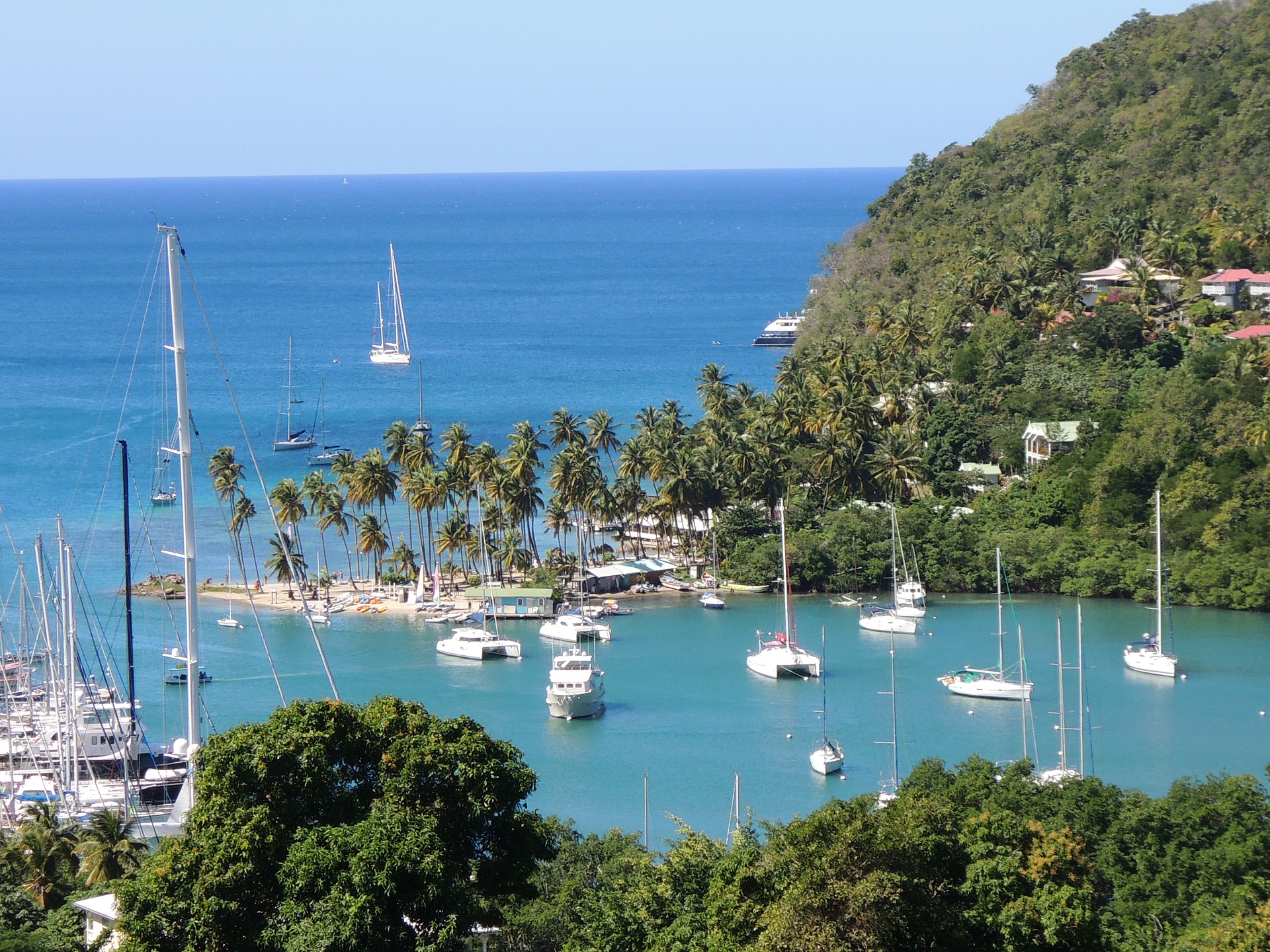 QUICK FACTS
Capital city: Castries
Population: 179,667 (2018)
GDP in current prices: USD $1.87 billion (2018)
GDP growth: 1.0% (2018)
Area: 617 km²
Government: Unitary parliamentary constitutional monarchy
Monarch: Queen Elizabeth II
Governor-General: Sir Emmanuel Neville Cenac
Prime Minister: Allen Chastanet
Currency: East Caribbean dollar (XCD)
HDI: 89th (2018)
Ease of doing business index: 93rd (2020)
Time zone: GMT -4
Dialling code: 1 758
Saint Lucia is a sovereign island country in the eastern Caribbean. Part of the Lesser Antilles, it is located between St. Vincent to the south and Martinique to the north, with Barbados approximately 174 kilometres to the southeast. The island measures just 43 kilometres long by approximately 22 kilometres wide and has a coastline of 158 kilometres. With its sandy palm-fringed beaches, crystal clear waters, beautiful bays and lush rainforests, it is a popular destination for tourists and cruise ships.
The island is the only country in the world named after a historical woman, specifically Saint Lucy of Syracuse, who was executed in 304 and venerated as a saint in Roman Catholic, Anglican, Lutheran, and Orthodox churches. Legend has it that some French sailors were shipwrecked there on 13 December, which is the feast day of St. Lucy, and named the island in her honour.
The French were the island's first European settlers, signing a treaty with the Carib Indians in 1660. Over the next 150 years, the rule of the island switched at least 13 times between France and Britain – giving rise to the nickname 'the Helen of the West Indies' – before the British gained definitive control in 1814. After becoming one of the West Indies Associated States in 1967, Saint Lucia gained its independence from the UK on 22 February 1979 and became a member of the Commonwealth of Nations. English is the official language of Saint Lucia, although Saint Lucian Creole French is also used.
Geography and climate
St. Lucia is more mountainous than most Caribbean islands and even has a drive-in volcano. On the southwestern side of the island, two volcanic peaks rise up out of the clear blue waters. These peaks are the Pitons, the Gros Piton being 771m high and Petit Piton 743m high. This area was designated a UNESCO World Heritage site in 2004 and is located near the town of Soufriere, formerly the French capital of St. Lucia. Many tourists visit Soufriere for the tranquillity of the St. Lucia Botanical Gardens and the medicinal properties of the Sulphur Springs.
The modern day capital is at Castries, a flourishing port city in the district of Castries, where nearly a third of the island's population live. Castries took over as the capital city in 1967 and retained that honour when Saint Lucia gained its independence.
The local climate is tropical, moderated by northeast trade winds, with daytime temperatures averaging around 30°C, falling only to around 24°C at night. As the island is located near to the equator, the temperature does not vary greatly throughout the year. Saint Lucia typically has two seasons during a year, a dry season from December until the end of May, and a wet season from June through November.
Politics
Saint Lucia is a two party parliamentary democracy, and a Commonwealth nation. Queen Elizabeth II is the Head of State, and her presence is represented by a Governor-General. The Prime Minister is usually the head of the party that commands a majority in the House of Assembly. There are 17 seats in the House of Assembly, and 11 seats in the second chamber of Parliament, the Senate.
The seat of government is located in Castries, which also houses the head offices of many foreign and local businesses, a number of international embassies and consulates, and the secretariat of the Organisation of Eastern Caribbean States. The city is located in Castries Quarter in the northwest of the island, one of eleven 'quarters' (administrative districts) that the country is divided into. The country is a mixed jurisdiction in that its legal system is based on both civil law and English common law.
As well as being a member of the Commonwealth and the United Nations, which it became a member of in December 1979, Saint Lucia is a member of CARICOM (the Caribbean community) and the Organisation of Eastern Caribbean States. It maintains friendly relations with all of the active major powers in the Caribbean including the US, UK, France and Canada.
Economy and tourism
Saint Lucia is categorised by the UN as a Small Island Developing State economy. Its GDP grew by 3.7% in real terms during 2017 but contracted to just 1.0% real growth in 2018, due principally due to a downturn in both the public and private construction sectors. Nevertheless, the Caribbean Development Bank are forecasting an improvement in 2019. 
Saint Lucia's 2018 nominal GDP figure of $1.874 billion ranked 170th on the World Bank listings, but in terms of nominal GDP per capita rankings, Saint Lucia's figure of $10,610 placed as high as 68th. The services sector accounted for approximately 82.8% of GDP, with industry 14.2% and agriculture 2.9%.
The island nation has been able to attract foreign business and investment, especially in its offshore banking and tourism industries, attracted by a well-developed legal and commercial infrastructure, an educated workforce, improved roads, an upgraded communications system, port facilities, and a business-friendly entrepreneurial climate. The manufacturing sector is the most diverse in the Eastern Caribbean area. Crops such as bananas, cocoa, coconuts, avocados and mangos are grown for export.
Tourism is vital to Saint Lucia's economy, accounting for 65% of GDP, and is the main source of jobs, income and foreign exchange earnings. The popular tourist season tends to be January to April during the dry season. The island was attracting over 900,000 visitors annually, most of whom were stopping off as part of a cruise. 
However, after 2017 registered an all-time record of 1,105,541 inbound tourist arrivals, 2018 saw a further 10.2% increase with 1,218,294 visitor arrivals. Of these, 760,306 (62.4%) came by cruise ship as the Caribbean cruise sector enjoyed its best ever performance. The number of stay-over visitors arriving by air improved from 386,127 in 2017 to 394,780 in 2018. 
As with other Caribbean destinations, the USA, the UK and Canada are the major tourism revenue markets, accounting for 44.3%, 19.3% and 10.2% of stopover visitors respectively. 
A different kind of tourist attraction is the Saint Lucia Jazz Festival. First held in 1992, this annual event has grown in stature and encompasses live music performances, street parties, educational activities and fashion shows at various venues across the island.
Citizenship by Investment
The Saint Lucia Citizenship by Investment Programme was founded in 2015 and came into force from 1 January 2016, making it the newest of the Caribbean citizenship programmes.
Benefits
Saint Lucia is a stable nation and has a quality of life that very few places in the world can rival. Having a Saint Lucian passport allows for visa-free travel to more than 120 countries, including most of Europe, the UK, and Hong Kong.
Saint Lucia recognises dual citizenship, which can provide advantages for business expansion and tax belief. There is no tax on wealth, gifts, foreign income or capital gains. There is no requirement to visit Saint Lucia during the application process, no interview requirement and no residency requirements.
Applications for citizenship by investment must be submitted in English by an authorised agent on behalf of the applicant. 
Applications, including those with dependents, are processed within three months. In order to qualify for citizenship, applicants must choose one of the following four options:
1. National Economic Fund
2. Real Estate Projects
3. Enterprise Projects
4. Government Bonds
1. National Economic Fund
This is a fund established to receive investments of cash from the citizenship program that will be used in the funding of government sponsored projects. The Finance Minister must seek approval from Parliament for the allocation of funds for his chosen purposes.
Once an application for citizenship through investment in the Saint Lucia National Economic Fund has been approved, an investment is required as follows:
• Single applicant: USD $100,000
• Main applicant plus spouse: USD $140,000 
• Applicant applying with spouse and up to two other qualifying dependants: USD $150,000 
• Each extra qualifying dependant, of any age: USD $25,000
• Each qualifying dependent in addition to a family of four  (family includes a spouse): USD $15,000
2. Real Estate Projects
Approved real estate projects may be luxury branded hotels and resorts or high-end boutique properties. The minimum investment is USD $300,000 per application.
3. Enterprise Projects
Applicants may choose to make investments in pre-approved enterprise projects such as marinas, research institutions or infrastructure projects (e.g. ports, bridges, roads and highways). The following minimum investment is required:
• A sole applicant:
A minimum investment of USD $3,500,000
• More than one applicant (joint venture):
A minimum investment of USD $6,000,000 with each applicant contributing no less than USD $1,000,000
4. Government bonds
The fourth option is through the purchase of non-interest-
bearing Government bonds. These bonds must be registered and remain in the name of the applicant for a minimum of five years from the date of first issue and not attract a rate of interest.
Once approved, the following minimum investment is required:
• Sole applicant: USD $500,000
• Couple (applicant and spouse): USD $535,000 
• Applicant applying with spouse and up to two dependants: USD $550,000 
• Each extra dependant: USD $25,000.
To signify that Saint Lucia's Citizenship by Investment Programme is still open for business, and in order to attract foreign investors through to the end of 2020, the Government introduced some significant changes to the programme in May.
Nestor Alfred, head of the CIU, and Prime Minister Chastanet of Saint Lucia, announced the changes, which include halving the minimum investment required to qualify for citizenship through bond acquisitions.
St Lucia's COVID-19 Relief Bond, which was due to expire on 31 December 2020, will be extended to 31 December 2021. 
• Candidates can qualify through the purchase of a new, non-interest-bearing investment in Government Bond starts at USD $250,000 (a discount of 50%) for a single applicant.
• The investment amount in the Bond is refunded in full at the end of the holding period
• Processing fees are waived
• Holding period is 5-7 years
• Investment is to be made only after approval is granted
• The administrative fee has been reduced from $50,000 to $30,000 and is now only payable upon approval.
Get in touch with BLS Team for clarification: info@blsmedia.co.uk