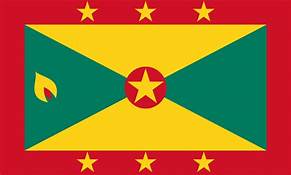 QUICK FACTS
Capital city: St. George's
Population: 107,825 (2017)
GDP in Current prices: USD $1.12 billion (2017)
GDP growth: 5.1% (2017)
Area: 340 km²
Government: Unitary parliamentary constitutional monarchy
Monarch: Queen Elizabeth II
Governor-General: Cecile La Grenade
Prime Minister: Keith Mitchell
Currency: East Caribbean dollar (XCD)
HDI: 75th (2018)
Ease of doing business index: 147th (2018/19)
Time Zone: GMT -4
Dialling code: 1 473
Grenada is located in the West Indies at the southern end of the Grenadines group of islands in the Caribbean Sea. The country consists of the main island of Grenada plus the two smaller islands of Carriacou and Petite Martinique, which became a dependency of Grenada in February 1974. The picturesque tropical islands offer the perfect getaway destination for both adventure lovers and those seeking rest and relaxation or a romantic break with a partner.
The islands are of volcanic origin with extremely rich soil. Their natural beauty remains largely untouched by industrialisation. With its lush, fertile landscapes and award-winning white sandy beaches and invitingly clear waters, Grenada has the perfect balance, and visitors may find themselves wishing that they could extend their stay.
Before the arrival of Europeans, Grenada was inhabited by the indigenous Arawaks and the Island Caribs. Christopher Columbus sighted Grenada in 1498 on his third voyage of discovery to the Americas, but there is no evidence to suggest the Spanish ever settled there. Grenada became a French colony from 1649 until it was formally ceded to the British in 1763. The country achieved its full independence from the UK on 7 February 1974 but has remained a member of the Commonwealth. Its official language is English.
Grenada's islands feature some of the most diverse terrain in the Caribbean, from crater lakes and verdant rainforests to sun-kissed swaths of beach and unspoiled underwater ecosystems. Almost one quarter of Grenada is preserved as national parks or wildlife sanctuaries. Nature trails criss-cross the terrain, offering visitors and locals alike the chance to drink in the spectacular views of mangrove-fringed coastlines and experience the islands' splendid array of fruits, spices, and tropical plant life.
Trade and tourism 
Grenada has a largely tourism-based, small, open economy, which has shifted from agriculture to services. Manufacturing industries in Grenada operate mostly on a small scale, including production of beverages and other foodstuffs, textiles, and the assembly of electronic components for export.
The Grenada Chocolate Company has pioneered the cultivation of organic cocoa, which is also processed into finished bars. Since 2014, Grenada has been hosting an annual Pure Chocolate Festival, which this year will take place from 31st May to 7th June 2019.
The country's principal export crops are nutmeg and mace – Grenada is the world's second largest producer of nutmeg and provides roughly 20% of the world supply. Grenada is known as the "Island of Spice" as it is reputed that travellers can taste a faint flavour in the air. Spices aren't the only natural bounty that Grenada shares with its guests; cocoa beans, bananas, avocados, cloves and cinnamon are also grown in abundance throughout the islands.
Large-scale tourism is a recent phenomenon, and Grenada is largely undiscovered, unspoilt and full of opportunity. Beach and water-sports tourism is largely focused in the southwest region around St George's, the airport and the coastal strip. The Grand Anse beach in St. George's is regarded as one of the 10 most beautiful beaches in the world.
Ecotourism is growing in significance. Most small eco-friendly guesthouses are located in the Saint David and Saint John parishes. During the cruise ship season, numbers greatly increase.
Well-preserved places of interest abound in Grenada. In the lovely capital of St. George's, pastel buildings and red-tiled roofs show off the city's strong Caribbean identity, while historic English and French architecture also hints at the culture's rich heritage of European influence. Fort George, a garrison that has overlooked the capital's harbour for more than 300 years, is open to the public for tours. In addition, the Saturday market offers locals and tourists alike the opportunity to explore local produce, spices and crafts in a centuries-old tradition.
The St. George's University has expanded rapidly in recent years and specialises in medicine, veterinary medicine, public health sciences, nursing and business degrees. It has become of the island's biggest employers and attracts many international graduate and undergraduate students.
The island's airport, the Maurice Bishop International Airport, is situated at the most south-western point of the island, some 8 kilometres from St. George's. From here you can get connecting flights to the USA, Canada, Toronto and London as well as to other Caribbean islands.
Citizenship by Investment
The Grenada Citizenship by Investment Committee (CIBC) is the main government-appointed body responsible for overseeing the processing of applications for Grenadian citizenship by investment.
The Committee assesses applications in accordance with the Grenada Citizenship by Investment Act, after which recommendations are made to the Minister, who makes the final decision to deny, approve or delay granting Grenadian citizenship.
The Citizenship by Investment Programme came into being in August 2013. Subject to strict due diligence procedures, applicants may choose between these two types of investments to obtain citizenship or permanent residence:
A payment into the National Transformation Fund; or
A payment towards an approved real estate project in Grenada.
Benefits
Individuals who obtain citizenship through Grenada's Citizenship by Investment Programme are entitled to the same rights as any other Grenadian citizen. These include the right to live and work in Grenada at all times, and all the rights associated with membership of the Caribbean Community (CARICOM). There is no requirement to reside in Grenada before or after citizenship is granted.
The application process is confidential, with no disclosure or exchange of information with other governments or bodies, except when due diligence checks are carried out as part of the application process by an authorised due diligence agency.
Grenada allows individuals to hold dual citizenship, and citizenship may be extended to family members, such as a spouse, dependent children, and dependent parents. Children and young adults may obtain preferred access, and in some cases grants, to top schools and universities.
Grenada has no foreign income, wealth, gift, inheritance, or capital gains tax. There is no restriction on the repatriation of profits and imported capital. Generous incentive packages exist including corporate tax incentives, full exemption from import duties, tax relief benefits, and export allowance. Grenada's currency, the East Caribbean dollar (XCD), is pegged to the US dollar (USD). Lastly, there is duty-free trading in the Caribbean.
Grenadian citizens can travel without visa restrictions to more than 115 international and Commonwealth countries. These include the UK and all other members of the EU, and important business hubs such as Singapore and Hong Kong. Grenada is one of very few nations whose citizens can travel to the People's Republic of China without first obtaining a visa.
Grenadian citizens also have the opportunity to apply for the USA E-2 visa. Grenada is one of the few countries to have an E-2 visa treaty of commerce arrangement with the United States.
Options and costs
The NFT option
The National Transformation Fund (NTF) is a government fund responsible for financing projects that will benefit Grenada's economy and help its diversification. Applicants who choose this route must make a one-time contribution to the NTF. It is important to note that applicants may not contribute to the NTF in person, but rather that they must use the services of an Authorised Local Agent.
Under the NTF route, applicants may either immediately apply for citizenship, or first apply for permanent residence and apply for citizenship at a later stage.
Applicants opting for the NTF route must contribute at least US$150,000 to the Fund, plus fees, as per the following table: