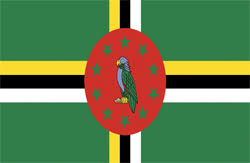 QUICK FACTS
Full name: Commonwealth of Dominica
Capital city: Roseau
Population: 73,925 (2017)
GDP in Current prices: USD $485 million (2018)
GDP growth: -12.0% (2018)
Area: 750 km²
Government: Unitary parliamentary republic
President: Charles Savarin
Prime Minister: Roosevelt Skerrit
Currency: East Caribbean dollar (XCD)
HDI: 103rd (2018)
Ease of doing business index: 103rd (2018/19)
Time Zone: GMT -4
Dialling code: 1 767
Dominica is an island nation situated in the Lesser Antilles archipelago in the eastern end of the Caribbean Sea, just a few miles from Martinique to the south and Guadeloupe to the North. The island is about 29 miles (47 km) long and 16 miles (26 km) wide. Dominica's official name is the 'Commonwealth of Dominica,' which is mostly referenced in official communications and to further distinguish the island from the Dominican Republic, its northerly Caribbean sister.
An inclusive island with a rich cultural makeup, Dominica offers a vibrant mix of European and African cultures and serves as the home to the Caribbean's only remaining population of pre-Columbian Carib Indians. Dominica was also the location for filming much of the 2006 blockbuster movie 'Pirates of the Caribbean: Dead Man's Chest'.
History
Dominica was given its name by Christopher Columbus in November 1493, the name derived by the Latin for 'Sunday' on which day he is said to have sighted the island. However, very few Spanish settlers stayed on Dominica and it wasn't until well into the 17th century that French settlements began to grow, attracted by the island's natural forestry resources. Dominica formally became a French colony in 1727, but was ceded to the British by treaty after the Seven Years' War of 1756-1763.
By 1805, the British had established a small trading colony with cotton, sugar and coffee plantations. Following the Slavery Abolition Act of 1831, Dominica became the first colony within the British West Indies to have an elected legislature assembly controlled by ethnic majority. In 1871, Dominica joined the Federal Colony of the Leeward Islands but was transferred to the British Windward islands in 1940 and later joined the West Indies Federation. However, internal politics on how the intended Caribbean state should be governed led to its dissolution on 31 May 1962 and Dominica formally became an associated state of the UK in 1967.
Dominica gained its national independence as a republic on 3rd November 1978 and joined the Commonwealth of Nations on the same day. Dominica has since flourished as a democracy which is patterned after the British parliamentary system. The president is the head of state, elected by the House of Assembly for a five-year term. The president appoints the prime minister, an elected member of the House of Assembly who commands the support of the majority of its elected members.
Although English is Dominica's official language and widely used, Dominica has been a member of the International Organisation of the Francophonie since 1979, as the majority of locals speak Dominican Creole which is based on French. Dominica is a beneficiary of the Caribbean Basin Initiative that grants duty-free entry for many goods into the USA, and is also a member of CARICOM and the Organisation of Eastern Caribbean States (OECS).
An eco-tourism paradise
The climate is tropical and the terrain spectacular. Its breathtaking landscape reveals rainforests, waterfalls and over 360 rivers. The Morne Trois Pitons Natural Park (meaning 'Mountain of three peaks') is in the southern central highlands of the island and encompasses five volcanoes, three freshwater lakes and several fumaroles and hot springs, including the world's second-largest hot spring at Boiling Lake, where its renowned healing properties are considered legendary. The park was designated a UNESCO Heritage site in 1997, being the first in the Eastern Caribbean.
Dominica is affectionately known as "The Nature Island of the Caribbean" as citizens of Dominica share their home with many rare species of exotic flora and fauna. The rugged terrain offers adventurous visitors the chance to canyon, bike or swing from new heights. For those with a love of nature, Dominica is the perfect birdwatching destination. Additionally, the botanical gardens are home to the Sisserou Parrot, which is the country's national bird and is featured on the national flag.
Looking out onto the Caribbean Sea, the mountainous green slopes are dotted with exotic tropical flowers, banana plantations and coconut trees. Dominica is also known for its spectacular reefs which visitors can explore while diving or snorkelling. Keen divers should certainly visit the signature Champagne Reef. For the less active visitor, there is the always the option to join a boating tour. From a catamaran, visitors can enjoy whale and dolphin watching.
Economy and trade
Historically, Dominica's economy had been dependent on agriculture but increasingly it has turned towards offshore financial services and eco-tourism. Services currently account for approximately 71% of GDP compared with 16% by agriculture and 13% by industry.
Dominica's main exports are agricultural and include coffee, cocoa, bananas, citrus fruits, and tropical fruits. Its main exported manufactured products are rum, timber, and soap. However, the economy is highly vulnerable to weather conditions and the last two years have seen a significant decline in real GDP after Hurricane Maria struck the island in September 2017 and wreaked over $900 million worth of havoc.
Citizenship by Investment
The government launched its Citizenship by Investment programme in 1993 – one of the first countries to do so – and has raised over $300 million in revenue, becoming the main source of foreign direct investment (FDI) into Dominica. The investment funds have helped Dominica to rebuild its infrastructure and build climate resilient housing to help its local communities better manage and overcome adverse weather conditions.
Benefits
Dominica's is one of the most affordable citizenship programmes and has fast processing times of between four to six months, with no interview requirement to visit the country. A Dominican passport allows visa-free travel to over 130 countries including Singapore, Hong Kong, the UK and the European Schengen countries. Dominica allows dual nationality and citizenship is for life and may be passed on to future generations by descent. Citizenship also comes with free movement of capital, dividends and profits made outside of the island, and no tax on wealth, gifts, inheritance, foreign income, or capital gains tax, and no personal income tax for residents.
Applicants must be at least 18 years of age, with good health and a clean criminal record. Family members may be included and applications must be made through an authorised agent rather than directly with the Citizenship by Investment Unit (CBIU).
Investment options
Dominica offers two options for applying for citizenship in return for a qualifying investment, which can be either a donation to Dominica's Economic Diversification Fund, or the purchase of pre-approved real estate.
Economic Diversification Fund
The Economic Diversification Fund (EDF) was established through the Citizenship by Investment Programme as one component of a national capital mobilisation portfolio towards an ultimate goal of national development for Dominica.
Generated funds are utilised for public and private sector projects where a need is identified. Public sector projects identified for financing under the Programme include the building of schools, a national sports stadium, renovation of the hospital, and promotion of the offshore sector. With respect to private sector projects, government emphasis is on the tourism, information technology and agricultural sectors. Since 2016, the Citizenship by Investment programme has been described as an economic and fiscal lifeline, particularly following Hurricane Marie.
To qualify for citizenship under this investment option, there are four investment categories with different minimum contribution amounts, based on the number of dependents included in the application, which are as follows:
Single applicant: a non-refundable contribution of US$100,000 is required
Main applicant and spouse: a non-refundable contribution of US$175,000 is required
Main applicant with up to three qualifying dependents. A non-refundable contribution of US$200,000
Additional qualifying dependants US$25,000
Real estate
To qualify for citizenship of Dominica under the real estate option, an applicant must purchase authorised real estate to the minimum value of US$200,000.
Following approval of a real estate investment application, the following government fees are payable:
US$25,000 for a single applicant
US$35,000 for a main applicant and spouse
US$35,000 for a family up to 4 persons, including the main applicant
US$50,000 for a family up to 6 persons, including the main applicant
US$70,000 for a family of 7 or more.
In order to qualify for citizenship, you must hold authorised real estate for three years from the grant of citizenship. You may only re-sell that real estate under the Citizenship by Investment Programme after five years.
Given that the application procedure under this option entails the purchase of real estate, this may extend the processing time, which is subject to the chosen property.
Applicable Fees
The following fees are also payable on application:
Processing fees
US$1,000 per application
Due diligence fees
Main applicant – US$7,500
Spouse – US$4,000
Dependant aged 16 years or above – US$4,000
(In some cases, an enhanced due diligence may be required, depending on the citizenship the applicant holds and other personal circumstances.)
Other fees
Certificate of Naturalisation Fee – US$250 per person
Expedited Passport Issuance Fee – US$1,200 per person