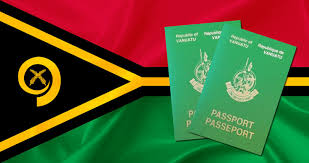 QUICK FACTS
Full name: Republic of Vanuatu
Capital city: Port Vila
Population: 286,291 (1 January 2019 estimate)
GDP in Current prices: USD $957 million (2018 estimate)
GDP real growth: 3.8% (2018)
Area: 12,189 km² (of which, land c. 4,700 km²)
Government: Unitary parliamentary republic
President: Tallis Obed Moses
Chancellor: Charlot Salwai
Currency: Vanuatu (VUV)
HDI: 138 th (2018)
Ease of doing business index: 94 th (2018/19)
Time Zone: GMT +11
Dialling code: 678
The Republic of Vanuatu is an archipelago in the South Pacific Ocean comprising over 80 relatively
small islands. It is situated 1,750 kilometres east of northern Australia southeast of the Solomon
Islands and west of Fiji. The islands are of volcanic origin and volcanic activity is still fairly common.
65 of the islands are inhabited and only 14 have surface areas larger than 100 square kilometres. The
largest of these is Espiritu Santo, which has an area of 3,955 km² and a population of around 40,000.
The capital and largest city is Port Vila, which has a population of around 45,000 and is situated on
the island of Efate.
Vanuatu is considered one of the most eco-friendly countries in the world and is a popular tourist
destination for scuba divers wishing to explore the coral reefs which are rich in marine life. Roughly
36% of the land is covered with tropical forests and there are plenty of nature trails, waterfalls,
caves and freshwater blue holes to explore inland from the white sandy beaches. The islands have a
tropical climate with quite a long rainy season from November through March when conditions are
generally hot and humid. Between April and October, temperatures are generally a pleasant 18°C to
28°C, whilst the water temperature maintains a mild year-round 22°C to 28°C.
History
The islands were first populated by Melanesian people and were first visited by European explorers
from Portugal and Spain in 1606. In 1774, Captain Cook landed in Vanuatu during his second voyage
to the Pacific Ocean and named the islands the New Hebrides. Over the next hundred years, waves
of missionaries and settlers arrived seeking land to establish plantations for cotton, cocoa and
coconuts. Both France and the United Kingdom had interests in different parts of the archipelago
and in 1906 they agreed to administer the islands in a joint arrangement called the British-French
Condominium, formally ratified in 1922. This was a unique form of government but one that did not
allow Melanesians citizenship of either power.
The subsequent influx of workers from French Annam (what is now the central region of Vietnam)
also led to outbreaks of social unrest and a rise in nationalism. The first political party – the New
Hebrides National Party – was formed in 1971 and, after a name change to Vanua'aku Pati, they
formed the first government when full independence was granted from 30 July 1980. Vanuatu joined
the Commonwealth of Nations on the same day and was admitted to the United Nations on 15
September 1981. On 28 September 1981 Vanuatu joined the IMF and it also joined the Asian
Development Bank (ADB) in 1981.
Economy
Vanuatu continues to hold strong economic and cultural ties with France and the UK as well as with
Australia and New Zealand, all of whom provided much of Vanuatu's development aid following the
country's independence. Vanuatu created an offshore tax haven in 1971 and many banks set up
operations there, to the extent that by the late 1980s, the offshore finance sector provided 12% of
the country's GDP. The government has since tightened its offshore financial regulations following
pressure from Australia and the Organisation for Economic Co-operation and Development (OECD)
to improve transparency, but the financial services sector remains one of the four cornerstones of
Vanuatu's economy.
The other main elements of the economy are agriculture, fishing and tourism. 73.5% of the
population live in areas defined as rural and agriculture provides a living for nearly 60% of adults. A
lot of agriculture is for domestic consumption but the production of copra, coconut oil and cocoa
bring in significant revenue from exports. Fishing and the processing of fish products is also a major
contributor, with non-fillet frozen fish accounting for 34% of Vanuatu's total exports in 2017.
Vanuatu's economy had been growing steadily since 2003, but in March 2015 the whole country was
severely battered by a category 5 tropical cyclone (Cyclone Pam) that caused extensive damage and
several deaths. As a consequence, Vanuatu's economy dipped from USD $815 million in 2014 to
$739 million in 2015. However, the economy bounced back in 2016, showing real GDP growth of
3.5% in 2016 and 4.2% in 2017, and is estimated to have grown by 3.8% during 2018. The 2017 GDP
figures show that Agriculture accounted for 27.3% of GDP, Industry (which includes food and fish
freezing, wood processing and meat canning) 11.8% and Services 60.8%, of which Travel and
Tourism provided 48% through both direct and indirect contribution.
Tourism
The government started promoting tourism more actively from 2002, at a time when there were less
than 50,000 international visitors a year, mostly from Australia. Since then, Vanuatu has been the
setting for several reality-TV shows which have helped raise the country's international profile.
Several five-star resorts and hotels have been built without detracting from the natural wonders of
the tropical islands. In 2017, the number of tourists arriving in Vanuatu reached 332,721 visitors, of
whom 32.8% came by air and 67.2% by boat or cruise ship. Figures for January through November
suggest that 2018's total will be around 10% higher.
Culture
The inhabitants of Vanuatu are called ni-Vanuatu and are mostly descended from Melanesians. The
national language is Bislama, while English and French are also recognised as official languages and
are the principal languages of education. But within many of the islands, traditional village life and
rituals still prevail and it is estimated that there are over 100 indigenous languages actively spoken.
Meanwhile, in the bars and vibrant nightspots of the capital Port Vila, Western tourists are treated
to the sounds of popular genres of modern music fused with ni-Vanuatu folk music.
Vanuatu is officially ranked as a lower middle income country, but its inhabitants are some of the
happiest and friendliest people you would wish to meet anywhere, let alone in a tropical paradise! In
2006, it topped the new Economics Foundation's Happy Planet Index (HPI), which sets out to rank
countries by human well-being and environmental impact rather than on economic performance
and infrastructure indices, and still ranked 4 th out of 140 countries measured in the 2016 survey.
One of the other attractions of Vanuatu is that it is moreorless a tax-free country, with no personal
income tax, capital gains tax or any other regular taxes aside from import duties and a VAT rate of
12.5%. Vanuatu is a very attractive place to form an offshore country as it has zero corporate tax
both for international and domestic companies.
Citizenship by Investment
Vanuatu introduced its Citizenship by Investment programme in 2016, effective from 2017, and is
currently the only country in the Oceania continent to operate a CBI programme. Previously the
government had operated the Vanuatu Economic Rehabilitation Program (VERP) and the Capital
Investment Immigration Plan (CIIP) to help raise recovery funds after Cyclone Pam, but these are
now closed.
The Vanuatu government runs two schemes:
 Honorary Citizenship Development Support Program (DSP)
 Vanuatu Citizenship Contribution Program (VCP).
There does not appear to be too many differences between the two schemes, except that, following
recent amendments to the Citizenship Act, the DSP allows for dual citizenship but with certain
restrictions, namely that holders of dual nationality may not vote or stand as a candidate in any
political elections and cannot hold or serve in any public office.
Applicants must provide proof of personal net worth of at least US $250,000 with six months of bank
statements in addition to the usual certified forms and proofs of ID and police clearance checks for
all named applicants and dependents.
The main fees are:
Individual applicant: US $130,000
Main applicant plus spouse: $150,000
The main applicant with three dependants: $165,000
Family of four: US $180,000
Additional dependent: US $25,000
FIU due diligence fee: US $5,000
However, recent amendments suggest that these fees only apply to applicants from China, Hong
Kong, Macau and Taiwan and it is recommended that any interested applicants from elsewhere
check with the Government's Citizenship's Office and Commission website for further clarification.
The government website also carries a statement – in response to initial reports that it would accept
bitcoin payments in return for economic citizenship – "that it does not recognise and will not accept
any payments made under these two Programs by Bitcoin or Cryptocurrency."
Benefits
 Vanuatu signed a mutual visa waiver agreement with the European Union in 2015 granting
access to the European Schengen Zone. As of March 2019, a Vanuatu passport gives visa-
free or visa-on-arrival access to 129 countries including the UK, Hong Kong and Singapore.
 Once the background checks have been completed by the Vanuatu government and pre-
approval has been given, the formal application process should only take between one and
two months, making Vanuatu one of the fastest citizenship processing programs.
 There is no requirement to attend an interview or sit any residency tests during the
application process; however, once citizenship is approved, an oath of allegiance has to be
taken in person in Vanuatu (or in Hong Kong in certain cases).
 There is no residency requirement.
 Vanuatu has a low cost of living and is a stable and peaceful country.
 Dual citizenship is allowed.
 Vanuatu is a largely tax-free country and offers substantial tax advantages to businesses and
individuals.
 Once granted, Vanuatu citizenship is for life unless revoked.
Documents Needed for a Vanuatu Passport
Passport copy
Copy of the birth certificate
Copy of the marriage certificate (if Married)
Documentation of a clean criminal record
Bank reference certifying that the applicant has no less than $250,000 on the account
Medical certificate
For more details on Vanuatu Passport email info@blsmedia.co.uk or Tel: +44 (0) 207 241 1589