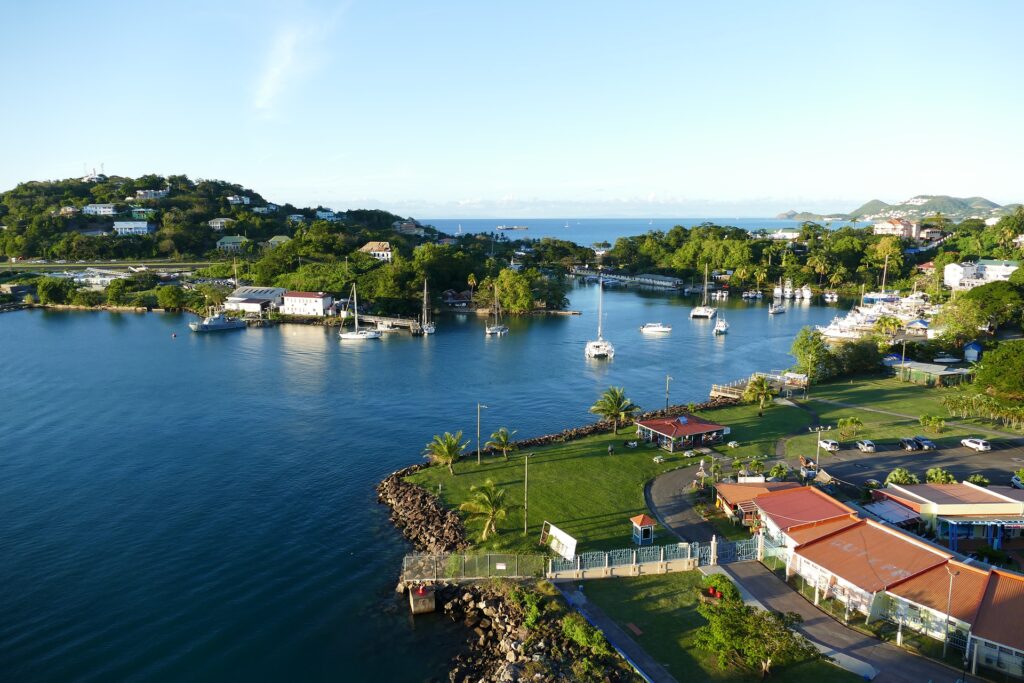 Saint Lucia is the most developed of the five islands in the Caribbean offering Citizenship by Investment to global citizens. Located in the Eastern Caribbean, Saint Lucia boasts a stable economy that is primarily fuelled by the tourism industry. This emphasis on tourism has led to the development of a country that boasts an international airport with daily flights from major cities in the United States of America and Europe.
Saint Lucia established its Citizenship by Investment Programme in 2015. Since then, the programme has grown by leaps and bounds and has introduced several changes aimed at making it more accessible and attractive to prospective applicants.
CITIZENSHIP OF SAINT LUCIA – THE BENEFITS                                                                  
You become a citizen of Saint Lucia for life and enjoy all the rights and responsibilities of other citizens.
You can enjoy visa-free travel to over 126 countries, including Schengen.
You are permitted to hold dual citizenship as a citizen of Saint Lucia.
You are NOT required to visit Saint Lucia to obtain citizenship, but obviously it is advisable if you intend to become a new citizen of such a beautiful island.
You do not pay wealth, gift, inheritance, foreign income or capital gains taxes.
You can pack your bags and move to paradise whenever you are ready to do.
You can apply for and receive a Saint Lucian Social Security Number, Tax Identification Number and Passports, and these are valid for five years and can be renewed thereafter.
YOU WILL NEED AN AUTHORISED AGENT – ANTOINE PARTNERS ADVISORY INC CAN HELP
We help potential global citizens get their passport to freedom.
Our services are personalised with quality representation that takes your personal circumstances into account.
We provide a Free Pre-Application Assessment that gives you the guidance you need before you pay us.
Our signature online collaborative tool makes it easy for us to deliver 5 Star Service to you.
We submit fully vetted and complete files within 48 hours of receipt once fees are cleared.
We have both the expertise and experience to serve.
STEP 1 – FREE PRE-APPLICATION
The investor provides TM ANTOINE Partners Advisory with the following documents:
Certified Passport Bio Data Page
Certified Birth Certificate
Completed and signed TMA Due Diligence Form
TM ANTOINE Partners Advisory will complete the free pre-application process and let the applicants know whether they are eligible to apply for citizenship of Saint Lucia.
Where there are issues with eligibility, TM ANTOINE Partners Advisory will advise the client on the best way forward, including steps that can be taken to improve eligibility and/or recommendations to apply for an alternative programme within the Caribbean.
STEP 2 – APPLICATION FORMS AND DOCUMENT SUBMISSION
TM ANTOINE Partners Advisory will assist the applicant to collect all the required documents and completethe required application forms.
An invoice for the processing fees, due diligence fees and agent fees will be issued to the applicant. These fees MUST be paid prior to the application being submitted to the Citizenship by Investment Unit.
The TMA Online Tool will be used to provide Assessment Feedback to the applicant as well as to receiveAssessment Responses from the applicant.
Completed files for which the fees have cleared will be submitted to the Unit within 48 hours of receipt.
STEP 3 – APPLICANT PROCESSING AND INVESTMENT
Application processing takes approximately 90 to 180 days from the day the Unit accepts the file for processing. The amount of time it takes for a file to processed is contingent on the amount of time taken to conduct the background checks. TM ANTOINE Partners Advisory has no way of knowing how long applications will take, but we do have some indicators which we can point out to applicants at the beginning of the process.
Once a decision is rendered by the Citizenship by Investment Board, TM ANTOINE Partners Advisory will inform you and request that the qualifying investment and any outstanding fees be paid.
Qualifying investments and outstanding fees must be paid within 60 days of notification to the application.
STEP 4 – CLOSING AND TRANSFER
The Unit will issue the Certificate of Citizenship ONLY after the qualifying investment has been cleared by the Bank.
TM ANTOINE Partners Advisory will apply for and send the Social Security Number and Passport once we have received the Certificate of Citizenship and the Post Approval Documents from the applicant. This usually takes 2 to 4 weeks.
TM ANTOINE will provide each applicant with a personalised checklist based on the initial knowledge of the client. Do note that initial checklists are not exhaustive, and we may request additional documents to support the application for citizenship based on knowledge gained during the application process.