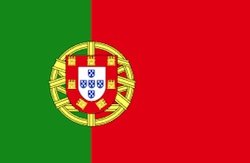 QUICK FACTS
Full name: Portuguese Republic
Capital city:Lisbon
Population:10,291,027 (2017)
GDP in Current Prices:USD $218.0 billion (2017)
GDP real growth:2.7% (2017)
Area:92,212 km²
Government: Unitary Semi-presidential constitutional republic
President:Marcelo Rebelo de Sousa
Prime Minister:Antonio Costa
Currency:Euro (€) (EUR)
HDI:42nd (2018)
Ease of doing business index:34th (2018/19)
Time Zone: GMT + 0
Dialling code:351
Portugal is the westernmost sovereign state of mainland Europe, locatedon the Iberian Peninsula, bordered bySpain to the north and east and by the Atlantic Oceanto the west and south.It is one of the most geographically diverse countries in Europe with mountain ranges, valleys, national parks, beautiful beaches and abundant wine regions.
Portugal's climate is described as a Mediterranean climate and is one of the warmest countries in Europe with over 3,000 hours of sunshine a year. The annual average temperature varies from 12°Cin the mountainous northern highlands to 22°Cin the southern coastal areas, with average high temperatures in the popular Algarve region ranging from 16°Cin January to 29°Cin July. The fact that much of the country faces the ocean has influenced many aspects of its culture – its beautiful beaches area very popular tourist destination and much of the country'sarchitecture is rooted in its rich history which harkens back toits naval past, influenced and paid for by its colonial possessionsat a time when Portugal was one of the world's major economic, political and military powers.
Portugal is one of the safest countries in the world. It is ranked as the 4thmost peaceful country in the world behind Iceland, New Zealand and Austria on the 2018 Global Peace Index rankings, and for the past ten years it has consistently been listed as one of the 30 most prosperous nations of the world (24thin 2018) on the Legatum Prosperity Index.
History
Portugal has a rich history dating back to Roman times. Its foundation as the Kingdom of Portugal dates back to 1139, when Alfonso I was acclaimed King of the Portuguese internally and four years later was recognised by its neighbours through the treaty of Zamora. Portugal's independence was formally recognised by Pope Alexander III in 1179 and the country remained a monarchy until 1910.
During the late 14thcentury, Portugal embarked on a period of naval exploration, and this resulted in voyages which pushed the bounds of European knowledge across the Atlantic Ocean, along the African coast and beyond the Cape of Good Hope. Vasco Da Gama'sdiscovery ofthe sea route to Indiain 1497-1499 was significant in that he was the first European to connect the Atlantic and Indian oceans, paving the way for a period of global imperialism and enabling the Portuguese to create a colonial empire in Asia that was largely unchallenged for several decades.
Meanwhile, Pedro Alvares Cabral landed in Brazil on 22 April 1500 and claimed possession of the land in the name of the King. Throughout the 15 and 16thcenturies, the Portuguese empire grew,as it largely monopolisedthe spice trade worldwide, thus creating immense wealthand expanding Western influence across the globe.
However, disaster struck when,on 1 November 1755,its capital city Lisbonwas completely destroyed at the hands of aviolentearthquake, tsunami and subsequent fires. Then in 1756, a global conflict, which became known as the Seven Years' War, broke out, during which Spain invaded Portuguese territory. After that,Portugal lost much of its power to other naval states like France and Britain.Brazil declared its independence in 1822 – formally recognised in 1825 – and after losing all its territory in South America, Portugal focused primarily on its African territories and a few in Asia including Macau, which remained a Portuguese colony until 1999 when it was handed back to China as a special administrative region.
The dawn of the 20thcentury brought state bankruptcy, economic turmoil and social unrest. On 1 February 1908, King Dom Carlos I was assassinated along with his eldest son and heir apparent. The youngest son became King Manuel II, but was eventually overthrown during the 5 October 1910 revolution and Portugal became a constitutional republic. Portugal was one of the few European nations to remain neutral during World War II, but the succeeding years saw several armed conflicts in its overseas territories and a mass exodus of Portuguese citizens from its African territories including Angola and Mozambique. By 1975, all its African territories were independent and in 1976 Portugal held its first democratic elections in 50 years.
Politics
Portugal is a parliamentary republic based on the1976 constitution, amended in 2004. The government holds the nation's sovereignty and not only has executive powers but also limited legislative powers, mainly concerning its own organisation. The parliament is known as the Assembly of the Republic with 230 deputies who are elected for a maximum term of four years. The legislature is elected by proportional representation, used in 20 multimember constituencies. Power is shared between the president, the assembly, the government and the courts.
The country is a member of the European Union since 1986 and was a founding member of NATO, the eurozone and the OECD. It enjoys a high standard of living, hasa low crime rate, little corruption, press freedom, social progress, prosperity. It is now a secular state with one of the world's highest rates of moral freedom.
Portugal is also a full member of the Latin Union and has a dual-citizenshiptreaty with its former colony Brazil. Sharing a long history and a common language,there is a mutual interest in using their bilateral political capital to increase trade and investment and to partner together in science, technology, culture and education. Over recent years,trade has grown steadily and is relatively balanced with over 600 Portuguese companies having a presence in Brazil and an increase in Brazilian investment in Portugal. Co-operation between the countries extends across the areas of innovation, nanotechnology, biotechnology and energy production.
Economy
Portugal is a developed high income country. With a population of 10.3 million, Portugal currently ranks as the 88thmost populous country in the world, but its GDP of $218 billion (2017) is the 47thhighest and ranks 38thhighest by GDP per capita ($20,368 nominal). Portugal saw real GDP growth of 2.7% in 2017 and is expected to have achieved around 2.3% growth in 2018.
The majority of industries, businesses and financial institutions have traditionally been located around Lisbon and Porto, but after the revolution in 1974, their most notable era of economic expansion ended and since they have tried to adapt to the changing modern global economy, a process that is successfully continuing still. There is now more focus on exports, private investment and developing a high technology sector. Having suffered from a severe recession and the indignity of accepting a bail-out in 2011 (which they have now exited),the national commitment to a reformist momentum endures and unemployment continues to fall. The World Economic Forum places Portugal 34th on its 2018 Global CompetitivenessIndex, a significant rise from 51st in 2013.
Portugal is a notable producer of minerals particularly copper, tin, tungsten and uranium. Lithium is also mined from their subsoil. Portugal is among the top ten producers of lithium, which is increasingly sought after by manufacturers of electric cars and mobile phones who use the element in their batteries. There is great interest in exploring lithium deposits further in the areas from Alto Minho to Beira Baixa, passing through Trás-os-Montes, where Dakota Minerals already is mining the 'white oil' in a €370m investment.
One of the country's main exports is wine and it is the 11th largest exporter in the world by volume. The genesis of this trade dates back to the Roman Empire. Its wine-producing regions, the Douro valley and Pico Island, are protected by UNESCO and offer a large selection of different wines from a vast array of grapes, all distinctive due to variations in soil and climate.
Portugal's industry is diversified, ranging from textiles and food to automotive and aerospace, and investment is growing strongly in the biotechnology and IT sectors. Research grants are prolific, particularly for neuroscience and oncology.
The country has a strong infrastructure with widespread broadband connectivity and it is also a leader in electronic payments. There is an open door to a market of 500 million and the country is currently ranked joint-highest in the World Bank's Trading Across Borders Rank.
Portugal has a highly developed motorway network and a port system among the best in the world. (Sines was recently the fastest growing container port in the world). Porto Airport was named as the 3rd best European airport in 2013 while the Atlantic Corridor is a rail freight line across Europe which is among the best in the world.
Tourism
Tourism remains extremely important to the country and it is one of the top 30 most visited countries in the world.The number of foreign arrivals has been growing steadily since 2009, attracted bybreathtaking landscape, glorious beaches, fine cuisine and even finer wines! 2017 brought in a record number of 12.7million foreign tourists, an increase of nearly 12% over 2016 and almost twice the 2009 figure of 6.4 million.Portugal was promoted as one of the top 3 hottest travel destinations worldwide for 2018 by 'Lonely Planet' and foreign arrival numbers are expected to have exceeded 13 million in 2018. Tourism and travel revenues now account for 10% of Portugal's GDP and this is forecast to continue growing with more hotels and more daily direct flights from the US being added this year. Portugal has also been declared Europe's leading destination for golf.
Living in Portugal
Alarge majority of Portugal's citizens are Roman Catholic but it is home to a large number of small communities representing different faiths and so it gives off a welcoming impression to all who grace its borders. The official language is, of course, Portuguese derived from early Latin. Although if Portuguese is not your first language, you should not fear as according to the latest EF English Proficiency Index, Portugal has a high proficiency level in English, higher than in countries like Italy, France or Greece.
Many people, after spending time in Portugal, come to the conclusion that they would like to live there permanently. To these people, there is some good newsascitizenship by investment is entirely possible in Portugal, but you will need to invest a minimum of €500,000 in order to qualify for a "golden visa".
Once you have acquired a golden visa, it is then possible to apply to become a citizen of Portugal after six years. In comparison to other some other EU countries, the minimum cost of investment is a little higher, but there are many benefits to Portuguese citizenship, including low tax rates, low minimum stay periods and, of course, the benefits of a climate and culture that are in-line with each other – easy going, with hot periods.
While being a more expensive option than some of its neighbours, Portugal offers investors a warm and friendly climate, gorgeous coastlines and vibrant cities in which to seek residence. Diverse, beautiful and culturally arresting, Portugal, in many ways, offers bits of the best of all of Europe.
Citizenship by Investment
Routes to CBI in Portugal
– Acquisition of property above €500,000.
– Acquisition of property above €350,000 – for properties more than 30 years old or located in areas of urban renovation.
– Transfer of funds above €1,000,000.
– Transfer of funds above €350,000 for research activities.
– Transfer of funds above €250,000 for artistic or cultural activities.
– Transfer of funds above €500,000 for capitalisation of small and medium-sized companies.
– Creation of a minimum of 10 jobs.
Once issued, the Golden Visa will be valid for an initial period of one year and then will be renewed for subsequent periods of two years. The simplicity of the Golden Visa Programme implies an extremely reduced amount of requirements being asked from the investor. The Golden Visa Programme sets out that the investor must comply with general requirements applicable to all types of qualifying investments and also with the specific requirements of each type of qualifying investment.
In general, all investors have to comply with the following requirements:
Keep the investment for a minimum period of five years
Funds for investment should come from abroad
Entry in Portugal with a valid Schengen visa
Absence of references in the Portuguese Immigration and the Schengen services
Absence of conviction of a relevant crime
Minimum stay in Portugal: seven days during the first year and 14 days during each subsequent period of two years