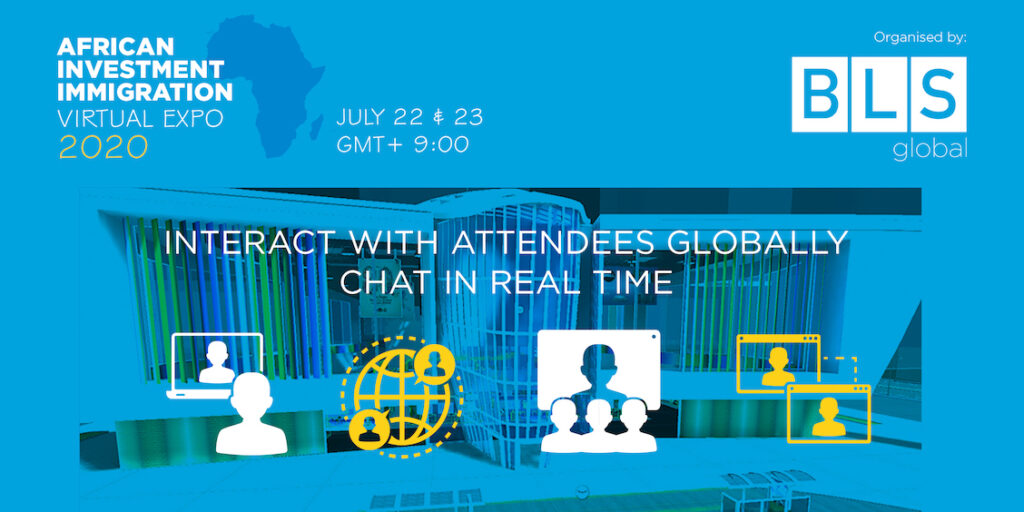 PRE – EVENT PRESS RELEASE
BLS Global will be holding its next African Investment Immigration Virtual Expo, on 22 – 23 July 2020.
EVENT: African Investment Immigration Virtual Expo
DATE: 22 – 23 July 2020
Virtual Conference 10:00 – 5:00 pm
Demand for investment into property-linked second passport residency programmes has spiked despite the travel restrictions brought on by the global Covid-19 pandemic, says Sam Hussain, managing director of BLS Global.
"Following the unexpected Covid-19 onset and consequent global economic slump, it was expected that global growth would slow in 2020 however no-one expected it to be so sudden and off the back of a global health emergency. It has caught many investors off guard and has caused many of them to seek out opportunities for residency by investment."
Diversification of both business and personal affairs through multiple residences can deliver increased quality of life, mobility, security, educational options, and improved tax and estate planning capabilities.
The Citizenship by Investment (CBI) Programme has been a growing industry, giving high net-worth individuals (HNWIs) and their families the opportunity to be able to secure long-term plans, through residency and citizenship overseas through investments. There are several countries that can provide a high quality of life for the security of families and businesses.
Living in a country with high taxation can be very hard on businesses and one sure way to reduce the tax rate is by moving your business or moving to a country with a lower tax rate. Many HNWIs can have the flexibility of choosing where to base their business and where to live to help secure future prospects for their family. Having a second passport can provide access to better healthcare provisions, higher education standards for children, a stable political environment and security in preserving assets.
Outbound migration is becoming increasingly popular in South Africa, Nigeria, Ghana, Kenya, Namibia, Algeria, Morocco, Ivory Coast, Egypt, Tunisia, and many other African Countries for HNWIs and their families. This is because they recognise the potential of having a second citizenship or residence for the purpose of flexibility, mobility, and the freedom to live and work in an increasingly global environment.
Fortunately, for those seeking opportunities overseas, the CBI programmes open the gateway to those opportunities.
BLS Global will be holding its next African Investment Immigration Virtual Expo, on 22 – 23 July 2020.
Sam Hussain, Managing Director of BLS Global said, "The need for outbound migration on a global scale is still on the rise in Africa and investment opportunities still continue to grow. As such, it is widely recognised that there is a need for a one-stop-shop event outlining the major immigration programmes that exist from around the world, which is why we are pleased to be hosting this virtual event
The event will include sessions outlining all the major programmes from the Caribbean, Europe, US and Canada, and will feature informative panels moderated by head of Citizenship/Residency Units, experienced in Immigrant Investor Programmes. Potential investors and residency seekers are urged to attend the panels to learn more about the global investment immigration programmes.
Speakers include:
· The Honourable Gaston Browne, Prime Minister of Antigua and Barbuda
· Prime Ministers of Dominica, Roosevelt Skerrit
· The Right Honourable Charles Peter David, Minister of Foreign Affairs, Grenada.
· Mr Percvival E. Clouden, Chief Executive Officer, Government, Grenada Citizenship By Investment
· Prime Minister of St Kitts and Nevis, Timothy Sylvester Harris
· H.E. Ambassador Emmanuel Nanthan, Head, Citizenship By Investment Unit, Commonwealth of Dominica
· Mr George Campanellas, CEO at Invest Cyprus
· Mohammed Asaria, Managing Director and Board Member, Range Developments
The African Investment Immigration Virtual Expo will have international leading experts that will be on hand to give one-to-one consultations to those attending. There will be representatives for the Caribbean, including Antigua and Barbuda, Dominica, St. Kitts and Nevis, Saint Lucia and Grenada. Apart from the Caribbean, we will have experts from Europe (Malta, Montenegro, UK, Cyprus and many more) along with Canada and the USA.
Through the virtual event, many HNWIs will be exposed to all the different programmes that each country offers. There are options for business investment, real estate investment, start-up visas, entrepreneurship and economic donations. Each country has its own different programmes and several of them allow more than one investment route for the applicants. The one-to-one consultations will provide interested investors and HNWIs with accurate information and advice to help them decide the best options for them to take towards preserving their wealth and creating a safer and more stable future.
For Press Enquiries/Interviews/Photo Requests, please contact us:
BLS Global London Office:
Unit 5, Hiltongrove N1, 14 Southgate Rd, London N1 3LY, UK
Telephone: +44 (0) 207 241 1589
Email: press@blsmedia.co.uk
Company Website: www.citizenshipinvestment.org
Event Website: www.giisummit.org