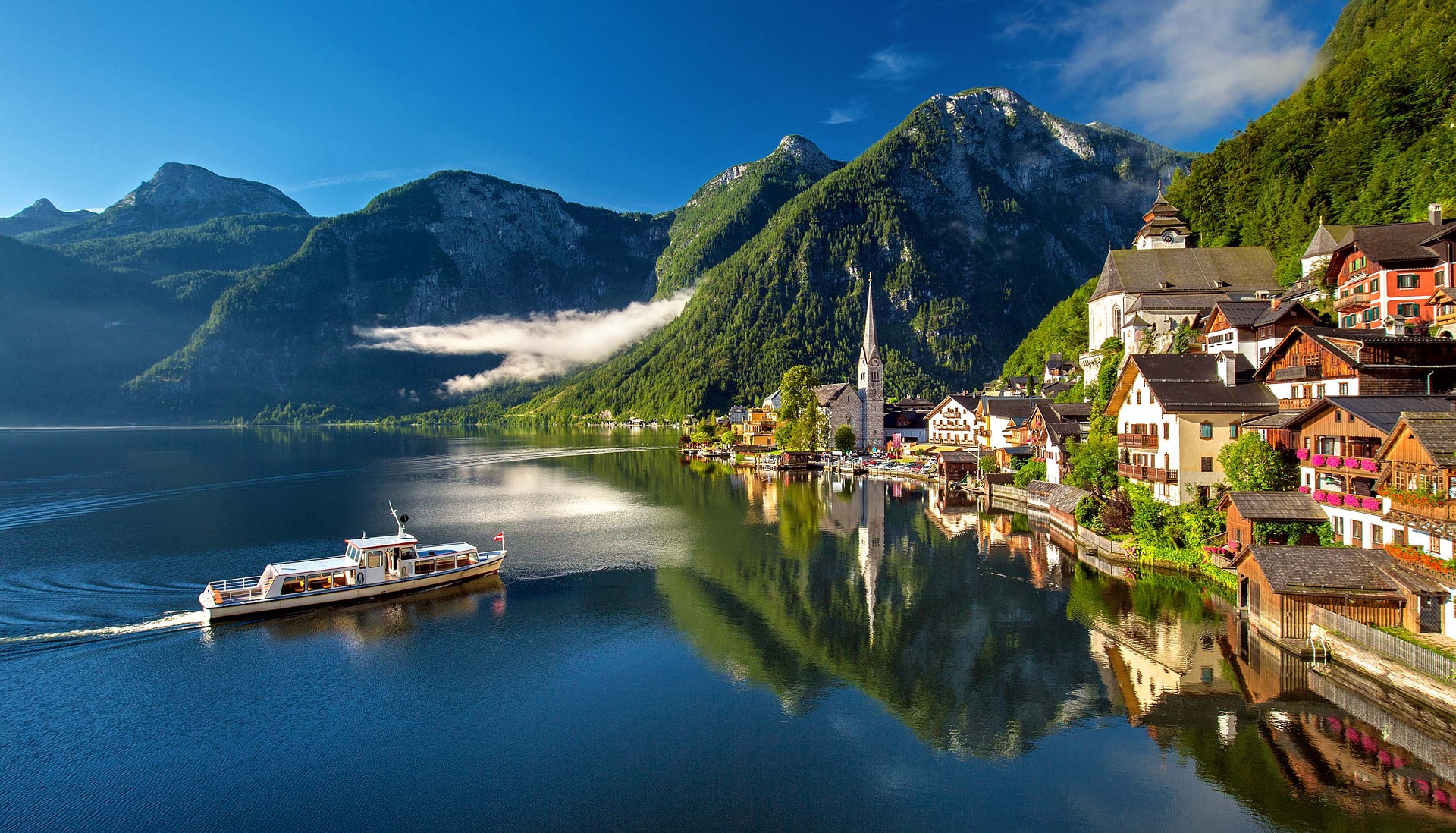 On display, the breathtaking shore of Hallstatt.
QUICK FACTS
Full name: Republic of Austria
Capital city: Vienna
Population: 8,857,960 (2018)
GDP in Current prices: USD $459.40 billion (2018)
GDP real growth: 2.8% (2018)
Area: 83,871 km²
Government: Federal parliamentary republic
President: Dr. Alexander Van der Bellen
Chancellor: Sebastian Kurz
Currency: Euro (€) (EUR)
HDI: 20th (2018)
Ease of doing business index: 26th (2018/19)
Time Zone: GMT +1
Dialling code: 43
Austria is a land-locked country in Central Europe situated in the Alps. It is bordered to the north by Germany and the Czech Republic, by Slovakia and Hungary to the east, Slovenia and Italy to the south and Switzerland and Liechtenstein to the west. The total area of Austria is 83,871 km², which makes it the 113th largest country in the world and roughly equivalent to the size of South Carolina, the 40th largest state in the US. Its terrain is largely mountainous, with less than a third (32%) of its terrain below 500 metres altitude, helping to make it Europe's top skiing destination.
The modern Austria was formally recognised on 15 May 1955 as the country regained full independence through the Austrian State Treaty, having been occupied and governed by allied forces since World War II. Austria's National Day of 26 October commemorates the date in 1955 that it declared its permanent neutrality by an act of parliament after all occupation troops had left. In September 1961, Austria joined the Organisation for Economic Co-opertion and Development (OECD) and, following a referendum in 1994, became a member of the European Union on 1 January 1995. The country also joined the Schengen Area on 1 December 1997, and was one of the first countries to adopt the euro on 1 January 1999.
Citizenship by Investment
Austria does not operate a residency or citizenship by passive investment. However, the government can reward foreign individuals with Austrian citizenship in the event of extraordinary contributions to the Austrian economy, such as creating new technologies or investing in joint ventures that create a substantial number of new jobs or generate significant new export sales. It is not generally enough to purchase government bonds or real estate as the scheme is intended to bring in more direct foreign investment. There is no quoted minimum amount, but a figure of at least €3,000,000 euros is generally required for the application to be approved, subject to all other strict requirements.
The whole process can take as long as 24 months as there are a lot of background checks and procedures to be undertaken with various government agencies and ministries. Each government minister has to be fully convinced on the legality of the funds and that the proposed economic investment will contribute to advances in Austria's national interest. Once the money is committed, the applicant will not be able to withdraw the investment in the future, although it would be tax deductible under Austria's laws.
Applicants are normally required to attend an interview in Austria. However, the applicant would not be required to learn Austrian German or study Austrian politics and history. The granting of full citizenship is at the sole discretion of the government and is not published nor reported to any other country under the government's provisions relating to privacy. Applications can include a spouse and up to two dependent children under 18. Once they have been approved, passports can be applied for immediately, which normally takes just a few days to be issued.
An Austrian passport is one of the most powerful passports, as it currently allows visa-free or visa-on-arrival access to 185 countries, including the USA. Once Austrian citizenship is acquired, this is for life and can be passed on to future generations by descent. This allows the holder to reside anywhere within the EU as well as in Switzerland, without the need to spend any particular amount of time residing in Austria.
Austrian Residence-by-Investment
When becoming an Austrian residence permit holder, it allows you to travel to all Europe's Schengen Area states without a visa. Typically, a residence permit is initially issued for one year and can then be renewed without problems or interruptions. After 10 years of legal residence, and in certain circumstances after six years, it is possible to apply for Austrian citizenship.
What are the key advantages of Austrian Residency?
Excellent transport and communications
Opportunity to establish residence as a person of independent means
Visa-free access to all Europe's Schengen Area states
Possibility for citizenship eligibility after 10 years of residence
Cosmopolitan lifestyle and healthy environment
What are the requirements for Austrian Residency?
Austria distinguishes between 10 different types of residence permits. These permits differ firstly depending on whether the applicant is allowed to work in Austria and secondly, whether the applicant is allowed to work as an employee or as a self-employed person. Other permits exist for students and family members of persons who are already resident in Austria. For some of these permits, including those for persons of independent means, annual quotas apply that are implemented each year by decree.
For all other residence permits, strict conditions have to be fulfilled.
What are the time frame and procedures?
Applicants must personally submit the required documentations to the Austrian consular or diplomatic representation in their current country of residence. Due to the strict quota constraints for some residence permits, timing of the submission of the application is of prime importance. Once the permit is granted, the applicant must pick up a special visa at the Austrian embassy, which allows the applicant to travel to Austria to collect the residence permit at the relevant authority.
There is a minimum processing period of one month, but applications usually can take up to three months to be approved. Once the residence permit is issued, it must be collected in person, all non-EU and non-EFTA citizens must sign an integration agreement if they will be residing in Austria for more than 24 months. The residence and settlement permits are issued in e cards and can should able to be renewed each year.
Why invest in Austria?
Austria is one of the richest countries in the world with a well-developed social market economy. Although it has fluctuated in recent years, Austria's GDP has tended to register strong increases since 2001 and currently ranks as the world's 27th largest economy (2018) and as high as 15th based on GDP per capita (2017 source: IMF). The country attracts over 28 million international tourists a year, mostly from Germany and the Netherlands, and gets almost 15% of its GDP through Travel & Tourism.
Austria's capital city Vienna is regarded by many consultancy firms as one of the best cities in the world to make a base in, and has regularly been rated number one for quality of living. Vienna has a long association with music, art and culture and is home to many opera houses. The historic city centre has a multitude of museums, baroque palaces, castles and other monuments, gardens and parks, and was designated a UNESCO World Heritage Site in 2001.
Vienna's position as a Central European hub became even more significant following the fall of the Berlin Wall in November 1989 and Vienna became the main gateway to Eastern Europe. Hundreds of international companies established offices in Vienna and its environs and the city contributes over 25% of Austria's GDP. Between 2005 and 2013 Vienna was the world's number one destination for international conventions and has often been cited as a benchmark for urban planners. It has also been recognised globally for its culture of innovation. The city is home to many universities and international business schools and accommodates numerous research and development firms and institutions.
The country has a well-organised infrastructure with over 200,000 km of motorways and one of the most reliable and punctual railway systems in the European Union, run by the state-owned OBB. In short, Austria offers a high quality of life and full visa-free access across most of Europe including Switzerland and Liechtenstein.
Please contact us for more details +44 (0) 207 241 1589 Email: info@blsmedia.co.uk