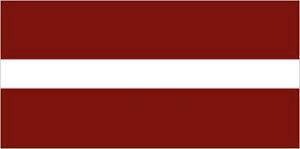 QUICK FACTS
Full name: Republic of Latvia
Capital city: Riga
Population: 1,919,968 (1 January 2019)
GDP in Current prices: USD $34.3 billion (2018)
GDP real growth: 4.8% (2018)Area: 64,573 km²
Government: Unitary parliamentary constitutional republic
President: Raimonds Vejonis
Prime Minister: Krisjanis Karins
Currency: Euro (€) (EUR)
HDI: 41st (2018)
Ease of doing business index: 19th (2018/19)
Time Zone: GMT +2
Dialling code: 371
Latvia is one of the Baltic states situated in Northern Europe and a former member of the Soviet Union. It is bordered to the north by Estonia, by Russia to the east, Belarus to the southeast and Lithuania to the south. It also shares a maritime border with Sweden to the west. The total area of Latvia is 64,573 km², which makes it the 122nd largest country in the world and roughly equivalent to the size of West Virginia, the 41st largest state in the US.
Much of Latvia's territory lies less than 100 metres above sea level. Approximately 54% of Latvia's area is forest land, 28% is agricultural land and 4% inland water. The country has four national parks and over 700 state-protected nature reserves, making Latvia one of the world's greenest and most environmentally-friendly countries. Latvia has over 12,000 rivers and more than 3,000 lakes, the largest of which is Lake Lubans with an area of 80.7 km². The coastline runs for 494 kilometres along the Baltic Sea and is largely undeveloped, with white sandy beaches, dunes and lined by pine forests.
A brief history
Latvia first declared independence as a separate country on 18 November 1918, one week after the armistice that brought World War I to an end. Previously, much of what is now Latvia and Estonia had been Swedish Livonia (1629-1721), with Riga its capital city. However, the territory was conquered by the Russian Empire during the Great Northern War and was ceded to Russia in 1721.
During World War II, Latvia came back under Soviet military control in August 1940 and was renamed the Latvian Soviet Socialist Republic. The following summer, it was attacked and occupied by Nazi Germany for three brutal years until Soviet troops eventually recaptured Riga in October 1944.
The post-war years saw a lot of changes to the demographic profile as the Soviets started imposing their communist methods. Many Latvian nationalists were deported and a steady influx of Russian labourers, administrators and military personnel was brought in to help man the new factories and processing plants that Moscow established in Riga and other cities across Latvia. Between 1935 and 1959, the share of ethnic Latvians had decreased from 77% of 1.906 million population to 62% of 2.093m, while the share of ethnic Russians increased from 9% to 27%.
During the late 1980s, while the Soviet Union's economy was stagnating and undergoing social reforms, the movement towards Latvian independence was gaining momentum and reached a peak in the summer of 1988. On 4 May 1990, a declaration on the Restoration of Independence of the Republic of Latvia was adopted. Attempts by Soviet political and military forces to overthrow the Latvian authorities failed and full independence was declared on 21 August 1991. Latvia's independence was formally recognised by the Soviet Union on 6 September and the country was admitted to the United Nations on 17 September 1991.
Politics and administration
Modern-day Latvia is a unitary parliamentary republic and is recognised as a high income country and a very highly developed country, ranking 41st on the United Nations' Human Development Index. Its 100-seat parliament is elected by popular vote every four years, the last election having been in October 2018, and the seats allocated by proportional representation. The president is elected by the parliament's members in a separate election and he or she appoints a prime minister who, together with his council of ministers, forms the executive branch of government, subject to the approval of the majority of the parliament's members. On 11 June 2013, the government launched live online broadcasts of cabinet meetings to strengthen transparency and public confidence in government decision-making.
Latvia joined the World Trade Organization (WTO) in 1999 and was admitted to the European Union on 1 May 2004, along with Estonia and Lithuania and seven other countries. Latvia also joined NATO in 2004, hosting the 2006 NATO Summit, and has played a full role in international peacekeeping and military security operations. In December 2007, Latvia joined the Schengen area and on 1 January 2014 became a full member of the Eurozone and switched to the euro as its currency.
Administratively, the country is now (since July 2009) divided into 9 metropolitan areas (called republican cities) and 110 one-level municipalities. Although Latvians have a strong rural heritage, a combination of migration and a low birth rate has seen Latvia's total population decline over the past three decades to the point where now nearly 70% of the population are classified as urban, with the capital city of Riga now housing a third of Latvia's total population.
With a population of 637,827 in 2018, Riga is the largest city in all three Baltic states and is home to all the biggest companies in Latvia. Founded in 1201, the city has a rich architectural heritage from medieval to Art Nouveau and Its historical centre was made a UNESCO World Heritage Site in 1997. Latvia has a strong folk music culture and Riga is home to many open-air cafes, concert venues and theatres including the Latvian National Opera, founded in 1918. In 2014, Riga was the European Capital of Culture and the city attracted almost 1.5 million foreign visitors last year, contributing significantly to Latvia's GDP.
Economy and trade
 Since achieving independence, Latvia has implemented a lot of market-oriented reforms. The economy took a while to stabilise, but from 1996 through to 2007 it grew by an annual average of 7.4% real GDP growth. With highly developed transit services, manufacturing and timber and wood-processing industries, Latvia was among the fastest growing economies within the enlarged EU, having privatised most of the previously state-owned companies and banks. Today, privatisation in Latvia is almost complete, although the country's main energy utility supplier, Latvenergo, which generates about 70% of Latvia's electricity mostly through hydroelectricity, remains state-owned.
Latvia suffered a severe recession in 2008/09 which saw the collapse of its second largest bank, an 18% contraction in the economy and led to unemployment reaching an EU high of 23%. However, a strengthening regional economy and steady growth in domestic demand and exports has helped the economy recover since 2011. 2017 achieved real GDP growth of 4.5%, with services accounting for 73.7% share of GDP, industry 22.4% and agriculture just 3.9%.Figures released by Latvia's Central Statistical Bureau for 2018 put Latvia's GDP at €29,523.7 million ($34.3 billion) giving a real GDP growth rate of 4.8% – the country's highest GDP rise in seven years.
Residency and Citizenship by Investment
Latvia introduced its investors' residence scheme in 2010 (the first European country to do so) as a means to attract foreign direct investment and stimulate the real estate market after the financial crisis of 2008. The plan worked in as much as the number of 'Golden Visa' applications – particularly from Russia, Ukraine and other former Soviet Union countries – rose exponentially to the point that, by the end of 2014, over €1 billion euros had been invested in real estate under the scheme and was driving up housing prices. The residency permit rules for foreign (non-EU) investors were subsequently tightened and the minimum requirement for real estate investment was increased from €70,000 to €250,000 from September 2014, with the result that the number of new applications fell sharply from 2015. Nevertheless, it is still one of the cheapest residency programmes in Europe and has much to offer anyone from non-EU countries with restricted visa-free access.
By 30th June 2018, a total of 7,545 golden visa applications had been received, resulting in 17,878 temporary residence permits being issued to investors and family members. Of these, 69.5% were from Russia, 8.2% from China, 7.9% from Ukraine, 4.2% from Uzbekistan, 3.8% from Kazakhstan, 2.1% from Belarus, 1.6% from Azerbaijan and 0.6% from Vietnam.
Benefits of a Latvian residency permit
Latvia offers the cheapest second residency programme in Europe
Latvia is situated within the heart of the EU Schengen area within easy reach of most of Europe's capitals by air from Riga
Having residence in Latvia allows visa-free access to 25 other countries within the Schengen area, including Switzerland, without border controls
A residency permit also extends to spouses and children under 18
No minimum requirement to reside
Fast track – Latvia has one of the quickest procedures for obtaining a residence permit in Europe, taking less than three months
The residency permit is renewable after five years
The investor can apply for permanent residency permit after five years, provided they have resided in Latvia for at least four of those years
After ten years, the applicant can apply for citizenship, with all the benefits, education and healthcare facilities that an EU passport brings; however, there are strict requirements on integration into Latvian culture, including being able to speak some Latvian.
There are currently four main investment options for applying for a residency permit:
Real estate
Business investment
Bank deposit investments
Government bonds
1) Real Estate Projects
This is the most popular option and requires a minimum investment of €250,000 euros plus a government fee of 5%. The property must be retained for as long as you want a residence permit and for a minimum of five years if you wish to proceed to permanent residency. There are no requirements to reside in the property and renting the property out can be arranged through a reputable residency citizenship agent.
Buying a property in Latvia can be a very profitable investment. The property market saw prices rise on the back of thousands of 'Golden Visa' applications, mainly from Russians seeking EU residence. Initially this led to a shortage of new-builds, putting upward pressure on housing prices before dropping back in 2015 as the demand from Russian investors fell away. But the market has now picked up again with several new apartment building projects underway. There is a high demand for apartments in Riga and the resort towns of Jurmala and Kaugri on the Gulf of Riga.
By 30th June 2018, of the €1.474 billion euros raised since July 2010, 82.8% had been invested in real estate from 6,160 applications out of a total of 7,545 applications.
2) Business Capital Investment
This requires a minimum investment of €100,000 either to increasing the equity capital of an existing company or founding a new capital company, plus a fee of €10,000 paid into the state budget. Qualified business investors get five years' residency and biometric ID cards valid for one year which are renewable each year.
Business rates in Latvia are some of the lowest in Europe, with a Corporate Tax Rate of 15% from 2002 until 2017, although this was raised to 20% from 1 January 2018, payable only upon the distribution of profits through dividends. For individual shareholders who are Latvian tax residents, the new tax is better in that they no longer have to pay what was previously 10% tax on their dividends.
3) Bank deposits
This investment option requires a €280,000 deposit in a bank or other financial institution for a term of not less than five years, whilst requesting a temporary residence permit for five years. The state fee is €25,000. By 30th June 2018, €158 million euros had been invested by 492 applications.
4) Government bonds
This option was introduced from January 2015 and is the safest investment option, although only 43 applications had opted for this route as at 30th June 2018. A deposit of €250,000 is made to a government securities account at the State Treasury which is guaranteed by the Latvian government to be repaid to you without interest after five years. You should only buy the bonds after your residence permit has been granted, which may take less than two months to receive. The permit is valid for five years and you do not need to necessarily travel to Latvia each year to renew. In addition, there is a state fee of €38,000 fee after the permit has been issued.
Country spotlight – 1,063 words excluding title and quick facts
CBI section – 900 words including sub-titles
For further information on residency/citizenship programmes in Latvia, please follow the link below: