[kad_youtube url="https://youtu.be/pOsqn-cFl_w" width=800 ]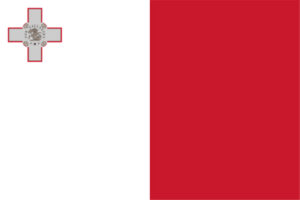 QUICK FACTS

Full name: Republic of Malta
Capital city: Valletta
Population: 514,564 (Est 2019)
GDP in current prices: USD $14.54 billion (2018)
GDP real growth: 6.6% (2018)
Area: 316 km2
Government: Unitary parliamentary constitutional republic
President: George Vella
Prime Minister: Robert Abela
Currency: Euro (€) (EUR)
HDI: 29th (2018)
Ease of doing business index: 88th (2020)
Time zone: GMT +1
Dialling code: 356
The Republic of Malta is a small South European island country that lies approximately 130 kilometres south of Italy and 333 kilometres north of Libya. Malta is an archipelago in the Mediterranean Sea, but only the three largest islands of Malta, Gozo and Comino are inhabited. The landscape of the islands is characterised by terraced fields, dry vegetation, rock and limestone. This is due to the long hours of strong sunshine that they receive throughout the summers, which are usually dry and hot. The average annual temperature is around 23°C.
Malta is the 10th smallest country by land area and one of the most densely populated nations in the world. Its capital Valletta is the smallest national capital in the European Union. Maltese and English are the official languages, although Italian is also widely spoken. 
Politics 
The parliamentary system is closely modelled on the Westminster system. The parliament is made up of the president, a prime minister and the multi-party House of Representatives. The country is divided into five regions – including Gozo and Comino which are classified as one region – with each having its own Regional Committee which serves at an intermediary level between local government and national government. 
The House of Representatives consists of 65 members, with five members being elected from each of the thirteen electoral districts. The role of the President of Malta is largely ceremonial, and he or she is appointed by the House of Representatives for a five-year term. The President appoints a Prime Minister, selecting a member of the House of Representatives who is judged to be best able to command the support of the majority of its members. The current President is George Vella, who was sworn in on 4 April 2019. The current Prime Minister is Joseph Muscat, leader of the Labour Party, who was re-elected on 3 June 2017, with the main opposition leader being Adrian Delia, leader of the Nationalist Party. The next general elections are scheduled to be held by 2022.
Economy 
Malta is a highly industrialised, high-income, advance service-based economy and is listed within the top 30 countries by the International Monetary Fund (IMF). Malta's real GDP growth in 2018 of 6.6%, compared with 6.7% in 2017, was one of the highest growth rates in the EU and was mainly attributable to domestic demand. 
Malta's main advantage has always been its central location for trade, and the economy reflects that. Being a small island nation, it has limited natural resources and can only produce around 20% of the food requirements for its relatively large population. The economy therefore is dependent on human resources and foreign trade. Malta's economy is driven by financial services, tourism, real estate, and manufacturing, particularly of electronics. Other significant sectors are pharmaceuticals, information technology and call centres. 
Ahead of its entry to the EU, the Maltese Government pursued a policy of gradual economic liberalisation and privatisation, taking steps to shift the emphasis from reliance on direct government intervention and control to policy regimes that allow a greater role for markets. In 2007 the government sold off its 40% stake in 'MaltaPost', and by 2010, Malta had managed to privatise its telecommunications, postal services, shipyards and shipbuilding. 
Malta produces almost all its electricity from oil, and energy costs, which are some of the highest in Europe, have become an issue. The government is looking into the potential of solar and wind power and Malta and Tunisia are currently discussing the commercial exploitation of petrochemicals on their shared continental shelf. 
Malta has managed to maintain a relatively low unemployment rate of less than 4%, mainly because of constant economic growth and by policies encouraging continuous training for the labour force. Malta ranks high on global inward foreign direct investment comparisons and is among the top twenty countries most likely to sustain economic growth. Malta didn't suffer in the same way as other jurisdictions during the Eurozone crisis, because of low debt and sound banking. Malta regularly ranks within the top 30 financial systems on the World Economic Forum's Global Competitiveness Report and placed 36th overall in the 2018 Global Competitiveness Index. 
Another major factor in Malta's economic growth has been its property market, helped by the fact that Malta does not have a property tax. Because of pressure from population growth and foreign direct investors, the property market has been in constant boom, especially in towns like St Julian's, Sliema and Gzira and around the harbour area. 
Tourism
Malta relies heavily on tourism and 2018 has again seen record-breaking arrival numbers. Tourist arrivals and foreign exchange earnings derived from tourism have steadily increased over the last 30 years. 2018 brought 2.634 million inbound visitors to the country, 13.8% higher than in 2017 and more than twice the 2008 total of 1.291 million. 
The United Kingdom and Italy remain Malta's most important source markets, accounting for 24.7% and 16.0% of total visitors, respectively, with Germany and France the next most important markets. The total tourist expenditure was estimated at nearly €2.1 billion, an increase of 8.0% year-on-year. In 2017, travel and tourism contributed 27.1% of Malta's GDP compared with 21.6% in 2009. 
There are currently five times more tourists than there are residents. The increased numbers of visitors have increasingly stretched resources and put pressure on the existing infrastructure (such as water, waste management, hotels, beaches and roads), with overcrowding especially during the peak summer months. Consequently, the Malta Tourism Authority (MTA)and the Ministry for Tourism have been promoting cultural tourism and festival tourism as ways to attract visitors during all months of the year rather than just the summer months. 
As part of the Schengen Area, visitors to the EU can travel freely. While Malta cannot unilaterally drop the requirement for nations it makes agreements with to obtain visas to enter the Schengen Area through its border crossing points, it is permitted to offer visa facilitation agreements to some nationalities. 
Transport
The main mode of public transport in Malta is bus, offering a cheap, frequent service to many parts of Malta and Gozo with the majority of buses departing from a terminus in Valletta. There are also frequent daily car and passenger ferry crossings between Malta and Gozo. 
Malta has just the one airport, located approximately 8 kilometres southwest of Valletta, through which 96.9% of its international visitors arrived last year.
The rest come by sea. Malta has three large natural harbours, one of which – Malta Freeport on the south-eastern side of the island – is the 9th busiest container port in Europe.
Citizenship by Investment
Malta currently has two investment migration programmes:
• The Malta Individual Investment Programme (MIIP) for citizenship
• The Malta Residence Visa Programme (MRVP) for permanent residency.
MIIP for Citizenship
Malta's Individual Investor Programme was the most exclusive economic citizenship scheme available on Earth and was firmly capped at 1800 applicants. In August 2020, the program officially reached its limit and stopped accepting new applications! The Malta Residence and Visa Programme (Malta Golden Visa) closed down a month earlier.
The new Malta citizenship by investment program is expected to open in October 2020, but the exact criteria has yet to be made public and still needs to be discussed and approved at Parliamentary level. Rumors are swirling that Malta's new citizenship program will have substantially larger investment requirements with the minimum financial contribution increasing to at least €750,000. We are also hearing that the new citizenship program will likely require investors to establish a stronger link with Malta by purchasing or renting a more expensive property on the islands as well as making a small donation to a local charity. Many also believe the new program's residency requirement will be much longer than the previous one-year stipulation.
MRVP for residency
Malta's Residence Visa Programme was launched in spring 2017, and received over 1,000 applications during its first eighteen months, with 250 (main applicants) visas approved by July 2018.
Applicants must be nationals of a non-EU/EEA country and be able to prove that they either have an annual income of at least €100,000 from outside Malta, or have capital assets of not less than €500,000. In addition, they must:
• Make an investment of €250,000 in Government bonds or accepted securities/shares on the Malta Stock Exchange; the investment must be retained for a minimum of five years
• Purchase or rent a property for a minimum of €270,000 or yearly rental of €10,000 in the south of Malta or on Gozo, or a minimum value of €320,000 or yearly rental of €12,000 if the property is in the north of Malta
• Make a contribution to the government of €30,000, of which €5,500 is a non-refundable administrative deposit and must be paid upon submission of the application; once it is established that the beneficiary qualifies for such status, the balance of the contribution must be paid.
Benefits of Maltese Citizenship
A successful application gives the right to live, work and study in any country in the EU and Switzerland, plus visa-free travel to over 180 countries. The tax system is based on domicile and residence, rather than citizenship. Tax is only due on income and capital gains arising in Malta. After a period of five years, property can be sold in Malta completely tax free, so long as it was the resident's sole residence for at least three years. If selling the property before three years of residence, a tax of 12% is charged on the selling price. 
In addition, there are no inheritance or death taxes, no net worth or wealth taxes, no municipal taxes, rates or real estate taxes and no estate duty. With tax benefits such as these, a stable economic climate and banks ranked as some of the most stable in the world, investment in Malta is a sound way to gain citizenship. 
Potential changes
Because of its popularity, The Malta Individual Investor Programme is reaching its cap. MIIPA will continue accepting applications for citizenship under the current regulations until 30 September 2020.
Applications for residence under this programme will continue to be accepted until 31 July 2020. Those individuals who obtain a residence permit, but do not manage to submit a citizenship application by 30 September 2020, may be considered under new regulations that the Government is considering.