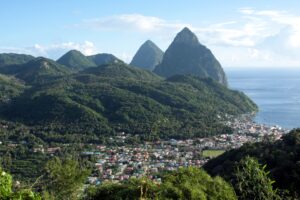 To signify that Saint Lucia's Citizenship by Investment Programme is still open for business, and in order to attract foreign investors through to the end of 2020, the Government has introduced some significant changes to the programme.
Nestor Alfred, head of the CIU, and Prime Minister Chastanet of Saint Lucia, announced the changes last week (13th May), including halving the minimum investment required to qualify for citizenship through bond acquisitions.
The new COVID-19 Relief Bond option in brief (Offer valid until 31st December 2020):
Candidates can qualify through the purchase of a new, non-interest-bearing investment in Government Bond starts at US$250,000 (a discount of 50%) for a single applicant.
The Investment amount in the Bond is refunded in full at the end of the holding period
Processing Fees are waived
Holding Period is 5-7 years
Investment is to be made only after approval is granted
The administrative fee has been reduced from $50,000 to $30,000 and is now only payable upon approval.
For more details info@blsmedia.co.uk