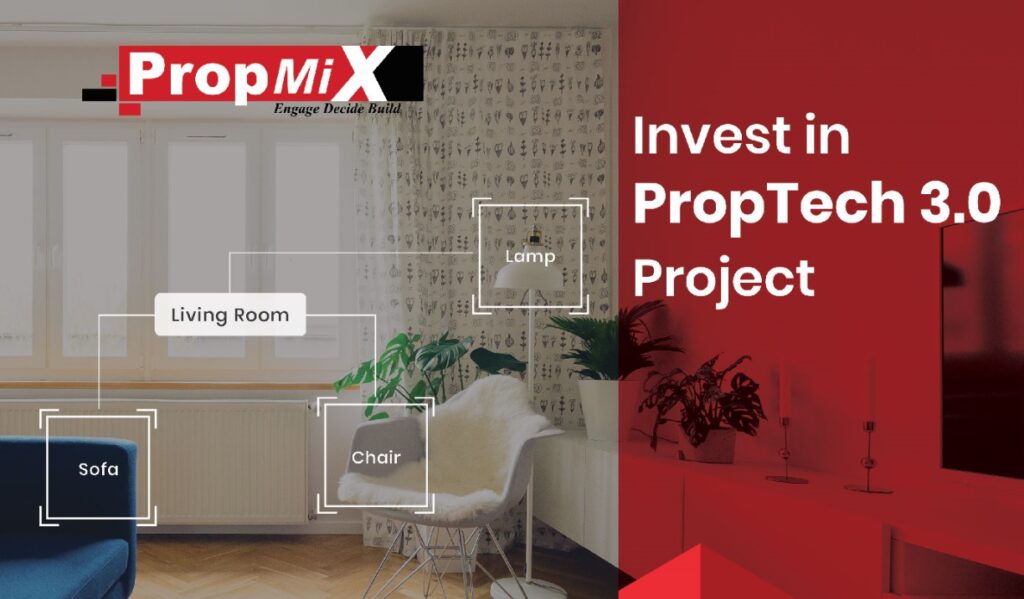 PropMix builds automation solutions for the real estate industry using technologies such as Artificial Intelligence, Machine Learning, Blockchain, and AR/VR applied to millions of records of real estate data that they have been gathering over the past 4 years. PropMix is building the future of real estate technology – PropTech 3.0, that will transform the industry by helping build lifelong relationships and make trustworthy decisions in mortgage and housing.
Some background for your next coffee conversation
The real estate industry, the world's largest asset class, is experiencing a sea change driven by technology – termed PropTech (Property Technology) 3.0. Since the late 90s PropTech has had a slow rise; PropTech 1.0 introduced the first versions of data aggregators such as Zillow, LoopNet, Trulia, etc. and initial versions of valuation models that could get us an estimate of a home's value. While it is interesting for homeowners to track their home's worth, it is invaluable for a mortgage banker to know the home's changing market value and the risk in the loan they are offering. In the last 10 years, PropTech 2.0 has been leveraging data analytics for various purposes such as enabling real estate equivalents in the sharing economy (WeWork and AirBnB) and seeking to automate portions of the real estate development and buy/sell/rent processes.
Venture funding in PropTech has been growing steadily over the years from half a billion in 2013 to $4 Billion in 2018. PropTech 3.0 and companies like PropMix are leading the charge to use deep insights and automation at every step in the real estate journey and empower more business models such as fractional ownership and iBuyer programs.
What is PropMix doing?
Over the past 4 years PropMix has put together what is considered a dream in the industry – a collection of real estate data from across the United States accounting to over 151 Million property tax records, 95% of the sale transactions, 98% of the mortgage records – both new and refinancing, 23 terabytes of images -interior/exterior of over 60 million properties and a whole lot more.
They have been running complex AI and Deep Learning algorithms on this huge data to generate predictions and recommendations that empower every participant in the real estate value chain with actionable information. That includes investors, developers, homeowners, agents, brokers, mortgage lenders, property appraisers and service providers such as the local plumber to the large HomeDepots of the world. And they are able to answer complex questions such as:
What are the chances that someone will sell their property in the next 6 months? And at what price will they sell?
What is the return potential of a particular property – Cap Rate?
Where are the best real estate investment markets in the country?
Which homes are best suited for refinancing in the next 3 months?
I have to move to a different city, what should I do with my home? Rent, sell or "AirBnB"?
Find a home similar to mine in another city in the US.
Which realtor is going to sell the most homes in the next year in my town?
Realtors and mortgage lenders want some of these answers to know how to market and generate leads. Mortgage servicers are managing huge portfolios of loans and they want to know when a loan may get paid off due to a sale.
PropMix has built a thriving business offering these B2B solutions under a subscription model – Software-as-a-Service – with multi-year contracts to many Fortune 500 companies. They are on the cusp of scaling up and also taking it to consumers under a B2C model to help democratize the real estate industry with their insights.
What makes PropMix a good investment?
PropMix is contributing transformative technology to the US real estate market – the world's largest asset class. Here are additional facts about PropMix:
Management team is comprised of FinTech & Real Estate veterans and tech experts with three decades in AI research – since the early 90s,
Proven track record, with 25+ customers including Fortune 500 companies,
Multi-year contracts provide revenue visibility and financial stability,
17+ years of experience in the US real estate domain,
Strategic partnership with a top 3 credit bureau in the US.
PropMix is offering full return of capital with appreciation in 5 years with an option to buy into its equity at a deep discount.
PropMix's attorneys have a proven track record for EB-5 Processing
PropMix is represented by Mona Shah & Associates, a top 25 immigration attorney for the last 5 years. They have extensive experience working with direct EB-5 projects, regional center formations, and have filed and obtained approval for hundreds of EB-5 investor cases from all over the world.
Mona Shah & Associates:
Voted as the Top 25 Attorneys in EB-5 by eb5investors.com magazine,
Founded the first EB-5 regional center in NYC; raised over $1 billion from EB-5 investors in the past 4 years,
Filed over 400 petitions, some with complex sources of investment funds,
Monitor the administration of major regional centers.

For further information contact:
Dr. Umesh Harigopal,
CEO, PropMix.io LLC
61-20 220th Street, Bayside, NY 11364
Ph: 1-732-979-9507.
Learn more about PropMix on their weekly live webinar – every Tuesday @ 10 AM EST. Register here: https://eb5.propmix.io